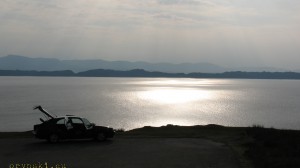 Scotland is beautiful. But the weather here can change like in a kaleidoscope. This is why the best way to travel around this amazing country is by car. 
During my ten years in Scotland, I was lucky to travel all over it. For many years I worked as a driver, but I was also taking every opportunity to go and see places in my own time. Thanks to it I know many places that are not amongst the most popular destination. And I know, that I am not the only one, who tries to avoid overcrowded tourist traps full of middle-aged men sporting they brand new Nessie t-shirts. So if you also prefer to look for places that not even local people tend to know, then this is for you. A tool that I was always longing when going online to find the answer to a simple question "where to go this weekend?"
So – here you go. Welcome to my own, subjective guide to Scotland. It might not be illustrated with beautifully photoshopped professional photographs, but the idea is not for you to admire my pictures, but to go and shoot your own. You will not find here reviews of five-star hotels or rankings of Scottish golf courses. But if you are sitting in front of your computer, your backpack and tent are ready to go, and you just need for an idea for a trip, big or small, then map above is just for you (if you rather see all texts as a list, click here, or at any time choose "Guide" from "My texts" menu).
MAP KEY
This is an attempt to geographically place guides to Scotland, that I publish on my personal website orynski.eu and/or in other places.
(Please note that my guide is built upon my previous publications for other media, therefore much more is available in Polish as only my latest pieces are bilingual)
.  Apart from areas described in my articles, on this map you will find the following icons:
– car icon 
means that a car route is described in this piece.
– car on the ferry icon 
means a car route on the islands that can be reached only by ferry
–
other icons
point to other places described in my guide, such as castles, museums, gardens etc.
– yellow question mark
 marks places described in my other articles, that are not really guides.
On the maps inside the articles that cover smaller area, I am showing places described in them, such as 
some nice spots for camping (cheap campsites or good spots for wild camping) or just for picnic are marked with 
tree and table icon. 

Other places include beaches, viewpoints, towns and villages worth visiting, religious places, megalitic structures, walks, gardens and other wonders of nature and lots more. 
Wild camping in Scotland is legal, but remember to always observe the rules of
Scottish Outdoor Access Code
Explore Scotland with me!