Remember those recordings, that helped PiS to win the elections? The whole electoral campaign in 2015 was circulating about who said what on the illegal tapes, secretly recorded by the people, who are now to be known to have ties with Russia. As we wrote in Britske Listy back in 2014, the whole thing was just an artificially wound up scandal: the recordings published back then hardly incriminated politicians of Platforma Obywatelska of anything. PiS had to revolt to drumming the drum of Radek Sikorski eating calamari, or Elżbieta Bieńskowska saying, that nobody sane would like to become government expert for 6000 zł per month. They tried to argue, that this is a proof of how disconnected the elites are from the normal people.
Click HERE to read previous part of the series. 
Click HERE to see all chapters of the series so far. 
But the recordings are haunting the Polish political elites again. And this time PiS is in trouble. It had emerged, that Mateusz Morawiecki, who back then was a chief of one of the biggest Polish banks and one of the advisors to prime minister Donald Tusk, has also been recorded. According to the waiters who illegally recorded conversations of the political and business elites, there are a few issues that he might have troubles to explain.

It seems that he was involved in some shady business – he was recorded discussing taking bank loans or buying property using false identities. It seems also that he was also throwing his bank's money to help out his political friends – on one of the recordings a situation of a former minister is discussed. It seems that Bieńkowska was right, as Morawiecki's colleagues discuss how "low salaries" in public administration (that is, from their words, around 10 000 zł per month), are not sufficient to keep people in the job, as they are going to starve. They say that for someone to be able to stay in politics, he needs to earn some proper money first. They discuss a former minister, who asks to be put onto the board of directors of one of the retirement funds, but lacks required qualifications. Morawiecki comes up with the solution: "Does he has a company, a foundation or an organisation? Ask him quietly, (…) we can give him 50, or 70, or a hundred, as if for some research or stuff".

But when it comes to let someone earn the money, there are bigger challenges. In one of the other recording, a situation of Przemysław Czarnecki, who's father is an MEP and one of the prominent figures in PiS, is discussed. Apparently, he was given a temporary job of an analytic in another state controlled bank with a hope, that he then will be given a permanent employment. The director of the bank tells Morawiecki a story, how he was "tuning up" his CV (young Czarnecki has no higher education or any significant work experience) and then ordered his subordinate to "work on him", so he would be actually able do some work. Despite all those efforts, the young protégé gave up, as apparently doing some work at the workplace was not exactly what he would want to do in his life. Especially, that the money was not so great, as explained by his father during (also recorded) telephone conversation. Luckily, everything worked well, and Przemysław Czarnecki is now one of the PiS MP's, and all he has to do is to press buttons like ordered by the party leaders.

But those recordings don't put Morawiecki in trouble only by exposing him as someone who tries to make some shady deals behind the scenes. Worse of all, it shows his hypocrisy. On this recordings he shows as someone, who does not believes in that the further economical growth is possible. He says, that people cannot expect to have luxury life, expect to live long with decent retirement, count on education or health service to remain free. It is impossible for everyone in the world to achieve Western European standards – he says – so if we continue to expect it, it will lead to war. Especially that the people from poor countries will come here on boats and we are going to shoot at them.

Mind you, it all comes from a man, who claim that those, who were telling that Poland cannot afford throwing money all around on the ill-considered social security schemes were wrong, as proved by the success of PiS flagship program of child benefits. And now we know, that what he really thinks is that the only solution to avoid a disaster is if we, normal people, will stop having high expectations and just get to work our arse off for a bowl of rice, as people did after the war, as this is the only way to keep the economy growing. This is our only hope – unless, of course, we are children of a prominent PiS politician who knows Morawiecki, then we can have CEO of the biggest Polish banks debating over dinner, how to get us a job in which we won't have to do anything, and make serious money.

Of course not as serious as the money Morawiecki made, though. During a decade as a bank manager, he made overe 35 000 000 zł. He was making in a day more than those civil servants make in a month. If there is one thing that tape tells us about Morawiecki, it is to make us understand how former banker, and member of the elite, could become so close with the leader of PiS. The answer is clear: he made enough money to be able to afford playing politics. And since he is a hypocrite, PiS is just natural place for him.
But those old recordings were not the only recurring topic this week. We also heard about yet another financial scandal involving father Tadeusz Rydzyk. It has emerged, that last year a foundation run by him has been awarded 787 000 zł from Ministry of Justice for preventing crime. Those money were spent on a concert in a philharmonics and funding production of some programs in father Rydzyk's TV. This is, at best, a controversial method of preventing crime. Despite that, the ministry found nothing wrong with how the money was spend last year, and this year Rydzyk is to receive a significant sum of public money again.

Last week I also came back to the issue of the government columns showing complete disregard to other road users. It seems that I had some hunch that it is to become a topic again, as this week one of the vehicles from the presidential cavalcade had struck a child on a pedestrian crossing. Luckily, the 10 years old has not been seriously injured – probably thanks to the fact, that the car had hit the boy "gently", as the presidential spokesman was kind to inform us. Good president, with that motorcade of armoured vehicles he could simply run over anyone he wants, and yet he only struck one boy gently…

There is also a follow up to the case of a women, who protested against participation of neo-Nazis in the independence march and were attacked by them. Two weeks ago we reported, that the prosecutors dropped the case, pointing out that attackers were merely expressing their unhappiness with the women obstructing their march. Meanwhile the women themselves were fined 200 zł each for "obstructing the legal manifestation". So basically: if you express your unhappiness by pacifist manifestation and sitting in the way of the march, you can be fined. But if you do it by kicking, attacking, spitting and abusing your adversaries, then the matter won't even get to court….

With the opening of the hunting season, the problem of the hunters also came back. We didn't had to wait for too long for the first incident: in Zachodniopomorskie district a driver of a car travelling on the one of a secondary road was shot in her both legs by one of the hunters. Luckily, her injures weren't critical and she will be released from the hospital soon. A bull in central Poland hasn't been so lucky – despite being chained on the pasture, it has been shot dead by two hunters… And we are only a month or so into the hunting season, how many such incidents are yet to happen for the government to finally stand up to the hunter's lobby and tackle the problem?

The fight on the front of anti-abortion propaganda also intensifies. In Wrocław local activists of the extreme rights placed stickers with aborted foetuses on the tram stops. To ensure that they stay there, the stickers have shaving razors hidden underneath, so someone who would try to remove them get his fingers cut.
There was also a case of the new low coming from right wing publicists – those occur quite regularly, we've informed about the major scandal last year when one of the right wing experts said that women right protesters go marching, as they are too ugly to get laid. Now another idol of the right, Stanisław Michalkiewicz commented on the recent break-through case in which the church has been ordered to pay a significant sum in damages to a victim of a child molestation by one of its priests. This right wing publicist and "expert" of the father Rydzyk's media known from his anti-Semitic remarks said, that this is an example of a stupidity of the Polish courts and the judge should be examined by veterinaries. On the sentence itself he said "who would not like to get a million for that someone once put a hand under her skirt? Many women put their skirts up for much less! Now every other lass is going to suddenly recall how molested they were, as they won't make a million in their lifetimes, and here just for one gig… No whores in the whole world are paid so well! I don't know how our country is to survive this!"- he said, as if the church and the country were one and the same thing. But victims of the paedophile priests are not the only people who demand millions. Andrzej Sapkowski, author of the popular series of fantasy books is suing CD Projekt Red, a studio that created one of the best games of the recent years. "The Witcher 3: Wild Hunt", an RPG based in Sapkowski's universe, was awarded with over 160 "Game of the year" awards in 2015 (the second most awarded game, Fallout 4, managed to get only 36) and become a worldwide success. Sapkowski is known for that he does not consider computer games to be a thing for intelligent people so when negotiating the rights to his books to be made into a computer game, he refused to accept a percentage from the profits and demanded to have "all the money" – that is, 35 000, paid upfront, as he never believed that the game can be a success. Now, as the game that tells a story of a monster slayer and his sorceress friends made a profit of over a billion, by the way boosting sales of Sapkowski's books worldwide and securing him a deal from Netflix, that is going to make his books into an international TV series. Yet this is not enough for him, so Sapkowski changed his mind and demands 60 000 000 zł from CD Project Red as well. Let's hope, the Catholic Church will not come with the same idea, as Smarzowski's movie telling stories from the life of clergy (we were writing about it last week) has made over 10 000 000 profit already…

Meanwhile, the local elections are nearly there. With all the changes to the election system introduced by PiS voters are a bit confused, especially when they hear opposition' warnings, that the changes are made to make election fraud easier. But perhaps they simply not understand the changes introduced by PiS fully? Perhaps with the new law there will be no need for the fraud at all?

A voting instruction from the electoral materials of Tomasz Nyga, an independent mayoral candidate in Bieruń, distributed a leaflet to teach voters what should they do to ensure that they cast a valid vote: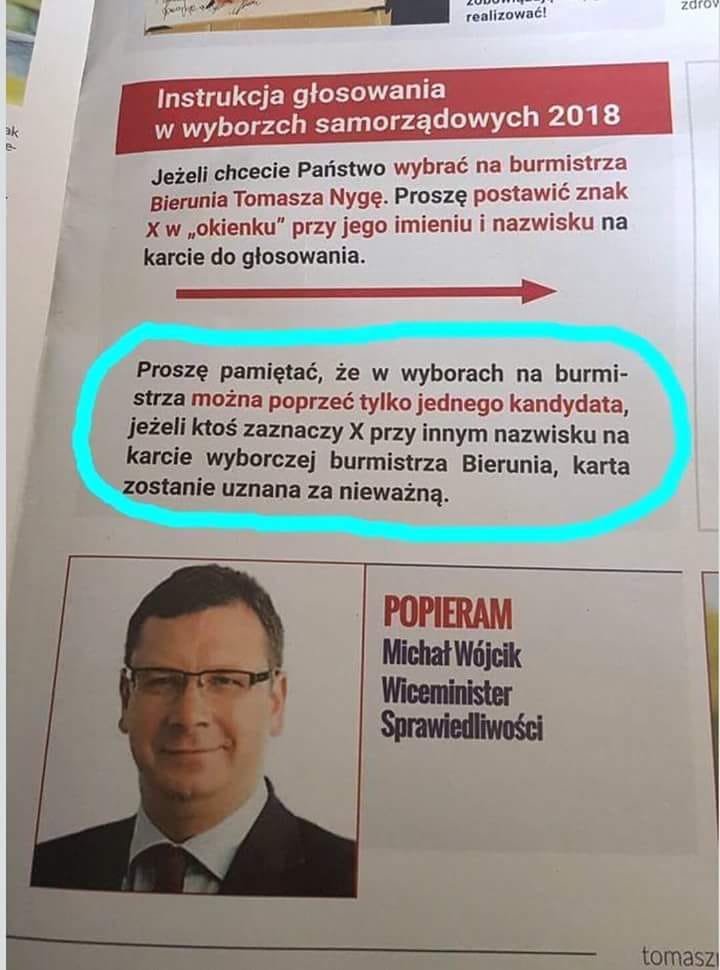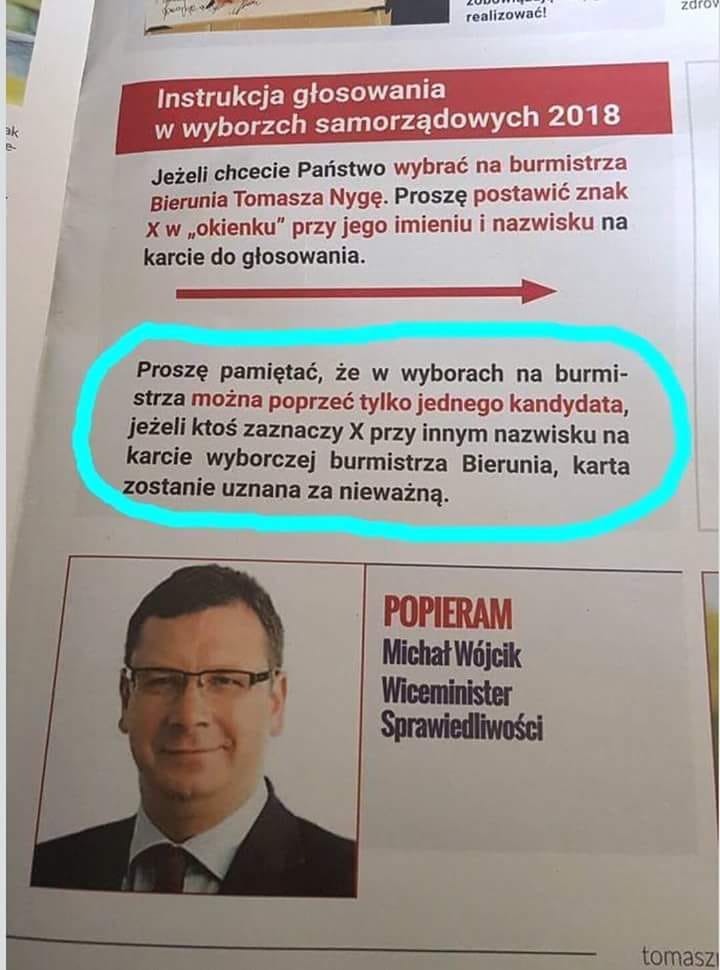 "If you want to elect Tomasz Nyga for a mayor of Bieruń. Please place a mark "X" in the "window" next to his name and surname on your voting card.

Please remember, that in the mayoral election you can vote for one candidate only. If someone places an "X" next to an other name on voting card, the vote will be considered invalid".

Well, seems pretty straightforward. I just wonder, who decides which candidate will be the only one voters are allowed to vote for?
---
This piece was written for Britske Listy
Picture of Stanisław Michalkiewicz: MEDIA WNET via Flickr (CC 2.0)
Picture of the leaflet: author unknown
(found on Twitter, used for informative purposes). 


Comments
comments