In my last Polish language podcast I shared my first impressions after moving to Glasgow. One of the listeners, a British Pole, asked if I could do a twitter thread about it, so I did. And I got carried away a bit, so I am going to make it into a blog as well for easier reading.
I will compare my current flat with the last flat I rented in Scotland, which was in the centre of Cambuslang, a small town on the outskirts of Glasgow. On paper, my Helsinki flat is much more expensive. The rent is about twice. But when we remember that in Scotland I had to pay council tax too and I had electric heating – and just before we moved, they predicted our monthly payments for this season to be 249 pounds, then, suddently, it's not THAT MUCH more expensive. But we also have to take in consideration what we're getting for that money. In Scotland, you just get a flat: 2 bedrooms, a living room with a kitchen next to it, a hall, a couple of tiny cupboards, a bathroom with a bath and a smaller en-suite bathroom with shower. In Helsinki, we also have the living room and two bedrooms and a kitchen. Just one bathroom, but there is a balcony as well. But the flat is perhaps 150% of the size of the Scottish one if not more. And then there are extras in the building: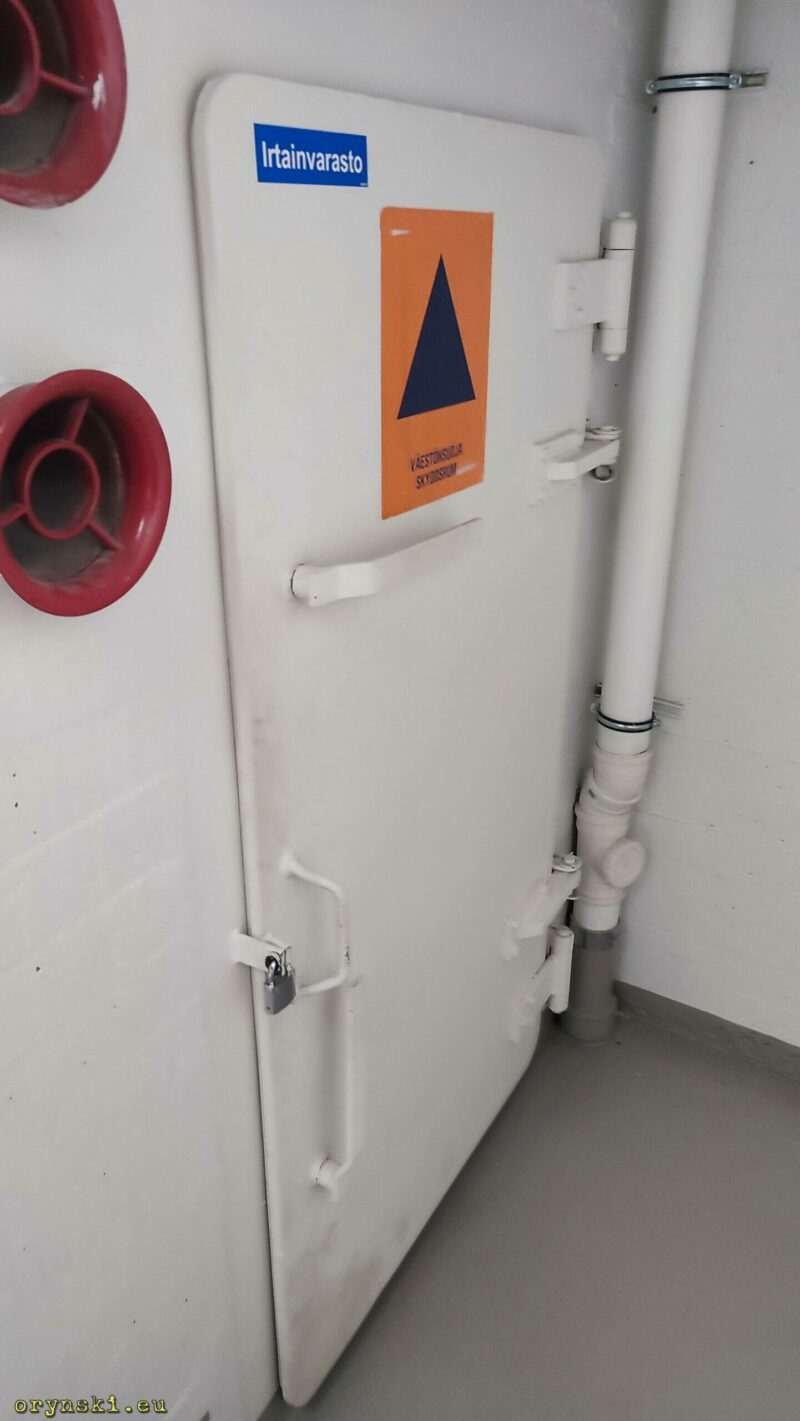 – There is a air ride shelter, which, in the peace time, doubles as storage. Everyone has the storage compartment there. This is ours: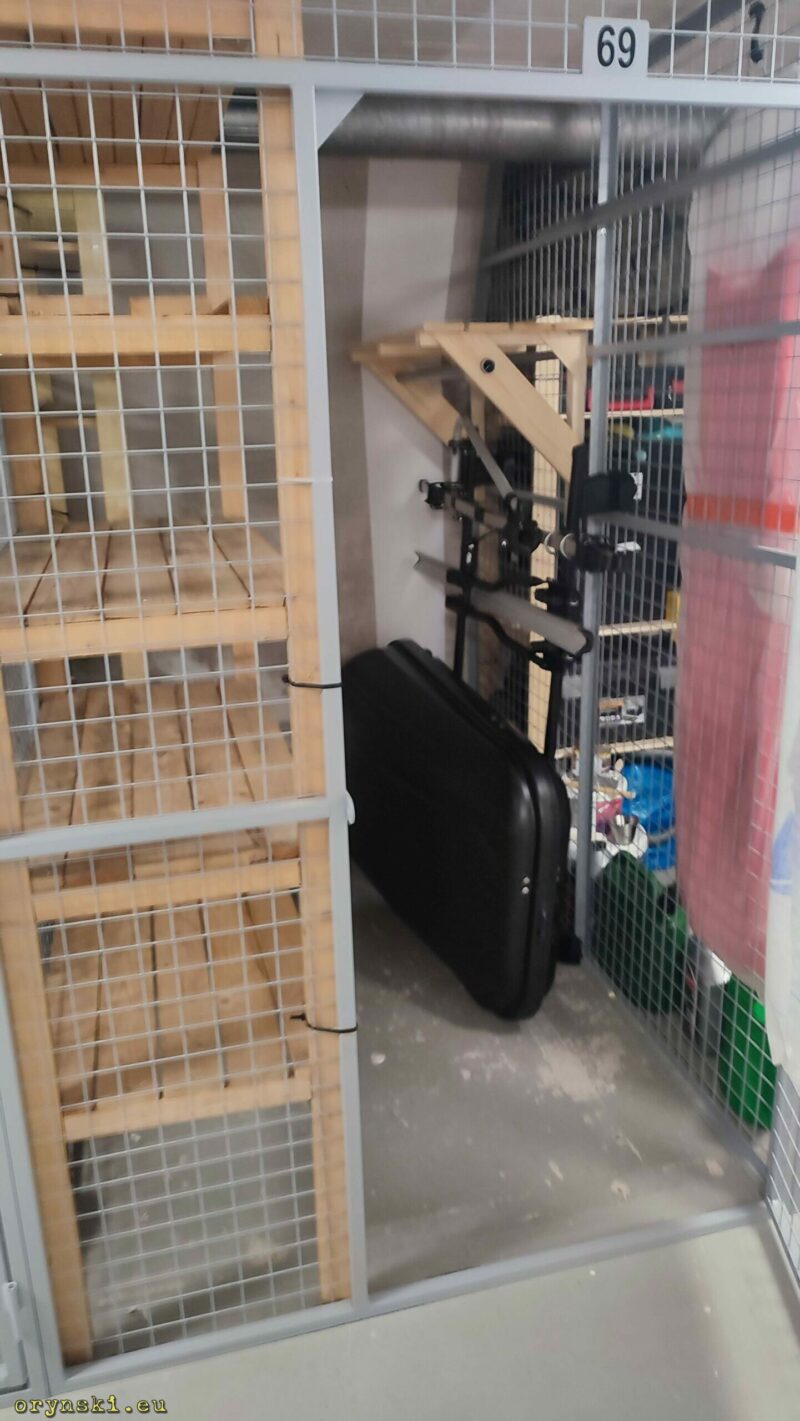 "It's not big enough to store a bicycle" you might say. And you'd be right. Luckily, there is no need, as the building has a dedicated bike storage space with separate entrance on ground level. Everyone who lived in Glasgow and had to keep their bike in the flat or risk it being stolen from the close, while symultanously being annoyed by trying to squeeze by all those bikes chained to the railings in the stairway will know what a luxury it is.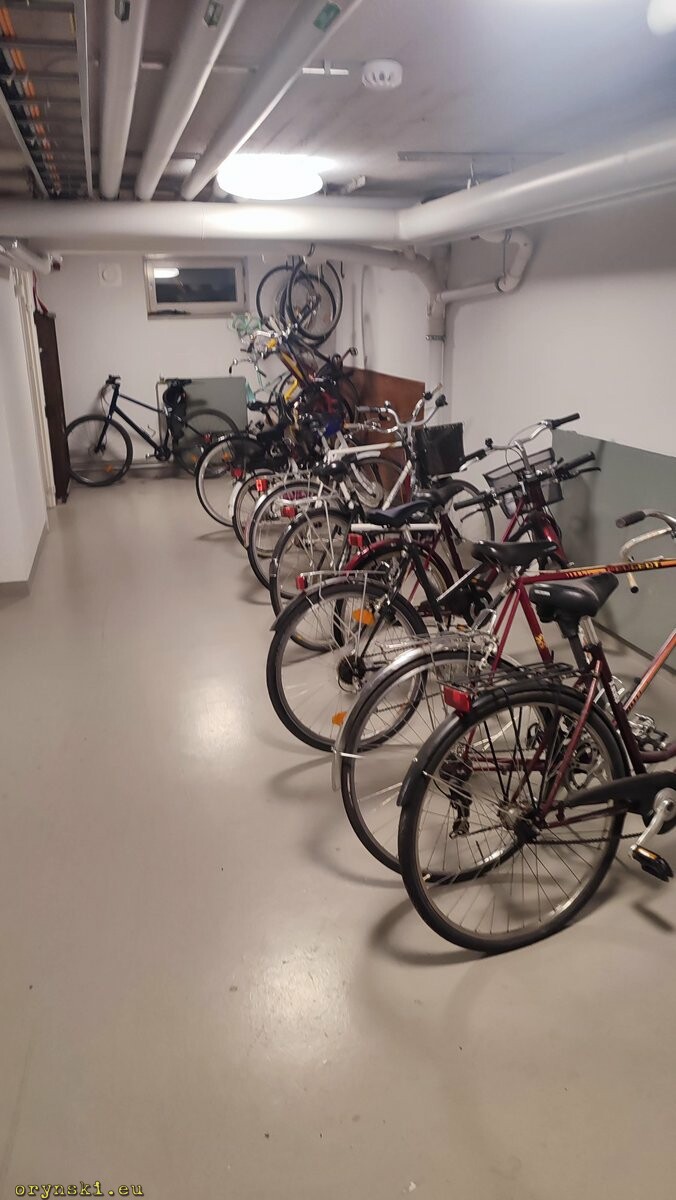 But that's not everything storageways, there is cold storage too. Not much, just a wee cupboard. But there is a refrigeration aggregate keeping the constant temperature of 10 degrees or so (disclaimer, due to the energy saving measures, this is now switched off and if you want cold storage, you'll use the one in the building next door):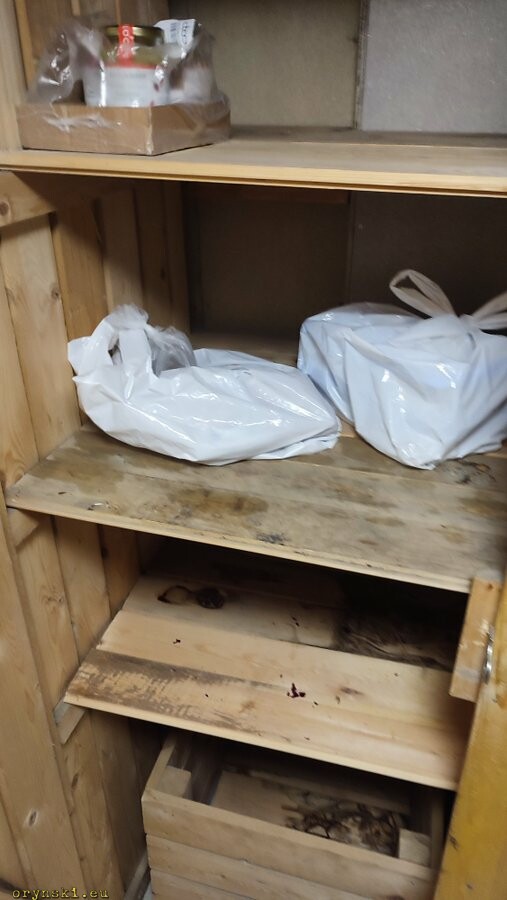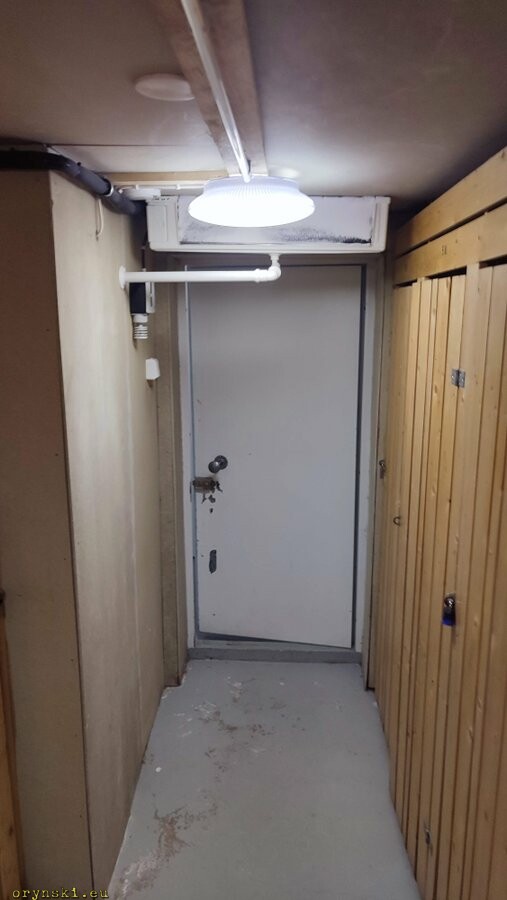 The basement is heated, ventilated, dry and immaculately clean (just like every other part of the common areas in the building and its surrounding). In our building, there is also a sauna with a shower area and a toilet. Which is great, as our bathroom is being rebuilt. But more on the bathroom later, let's keep to the basements now. So, there is also a neighborhood laundrette, it's located in the building across the street. It's free to use for residents, you just need to book the slot. There is an industrial grade washing machine and dryer, a drying room with a humidity extraction machine (I am not sure what it's called), and a linen press machine.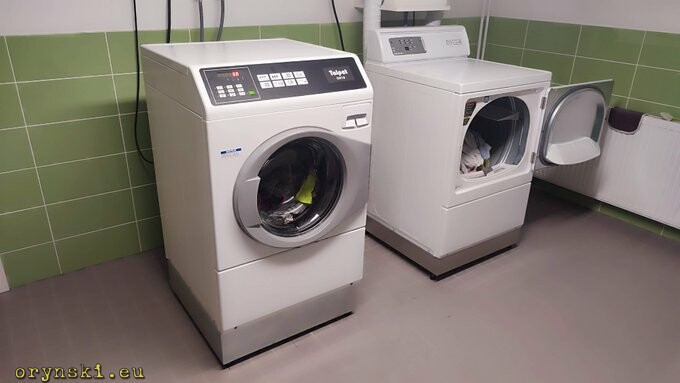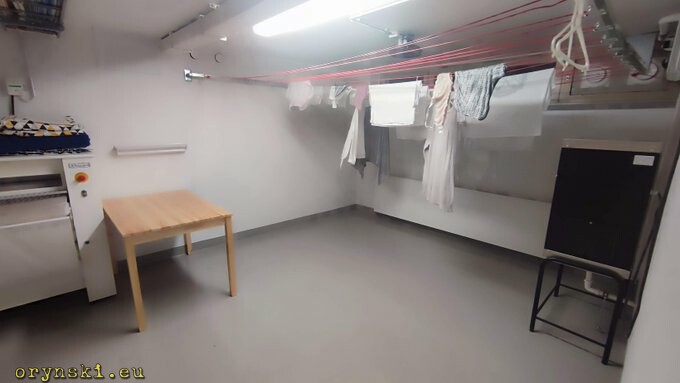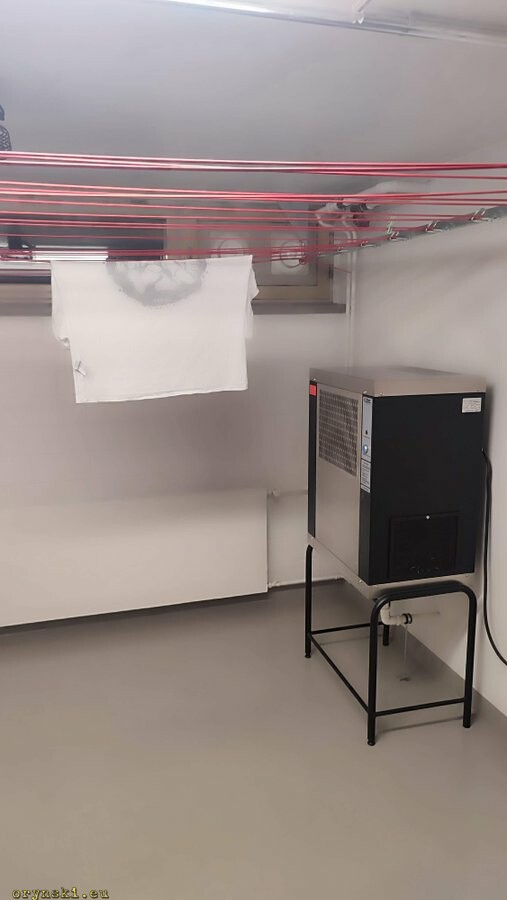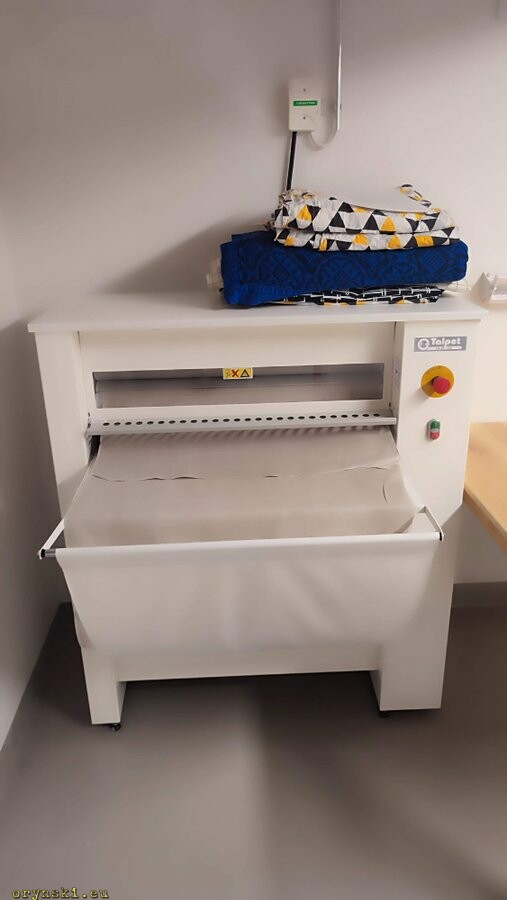 We have to use it as our washing machine can't be plugged in yet. This is a crazy story, as one of the cabinets was not up to standard so the landlord offered to replace it. When the tradesmen came to do the job, the tiles peeled out. It turns out that during recent renovation the company made a mistake with some special concrete used to provide a waterproof layer and all walls and the floor have to be replaced. It took a while back and forward to establish who's going to pay for it, but they gave the final green light last Wednesday, the company made a tender, the winning company representative came to see the bathroom today and the work starts this Wednesday.
In Cambuslang, I rented from one of the biggest Glasgow housing companies, Lowther Homes, and it was a nightmare to force them to do any repairs. We had to fight with them for months, and most of the work was only done because due to their negligence our flat got flooded and as someone had to come and virtually redo part of the flat, we forced them to do the overdue work as well. But some minor things remained unfixed during the whole period of almost 3 years we lived there. 
Meanwhile in Helsinki while it took some time for the interested party to establish who is to blame (which for my landlord was something unheard of and outrageous), as soon as it was confirmed repairs have to be done, the work starts next week. And we are getting a generous rent reduction for the whole month for our inconvienience, as for some time we'll have to use downstairs showers in the sauna and for a couple of days we might even be forced to use the basement toilet.
But this is how it works here. The housing company put our names on the doors and the tennant list two days after we took possesion of the keys. I only once had tennant list in my building in Glasgow and according to my neighbours, it was last updated around 1997…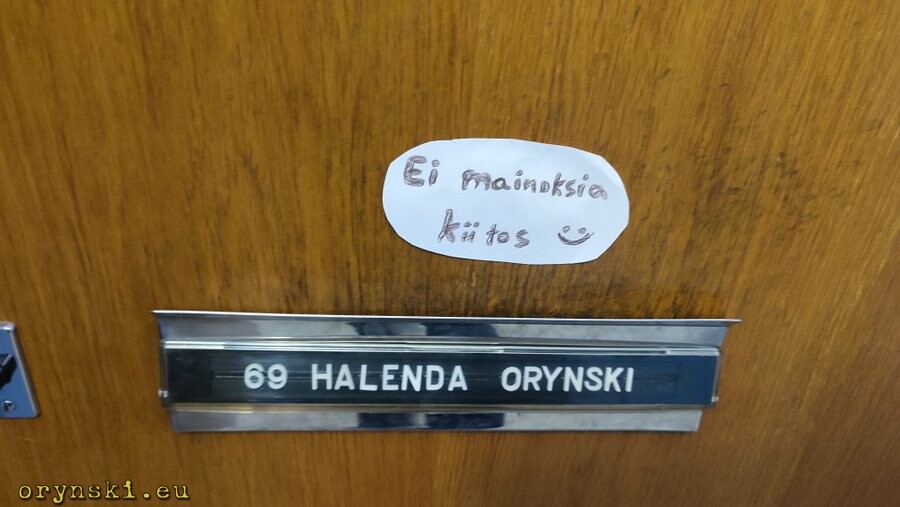 So as we are already in the doors, please come inside 😉 Our living room is huge. I could probably make a three point turn in it with my car. Just compare the boxes in it when we moved in (there is still a row of furniture and washing machine on the left out of the frame.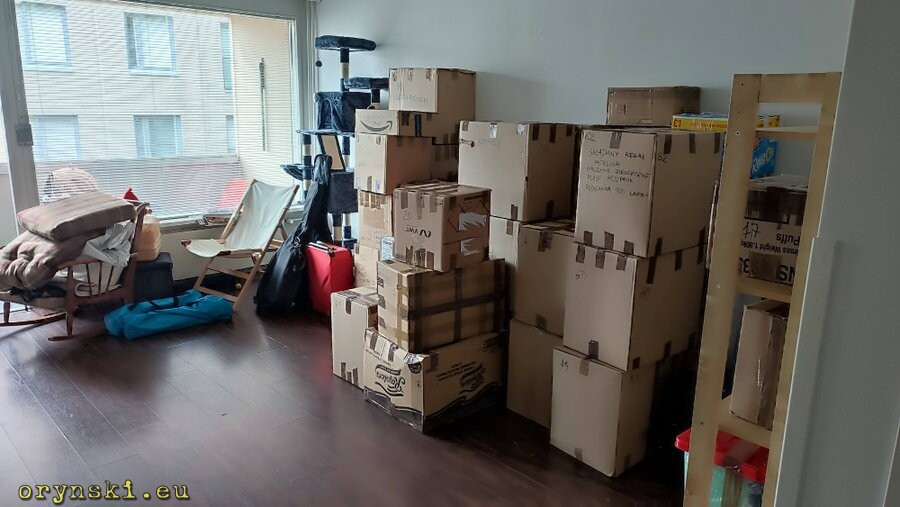 And here are the same boxes in our old living room. And I am standing touching my back to the wall when I am taking this picture.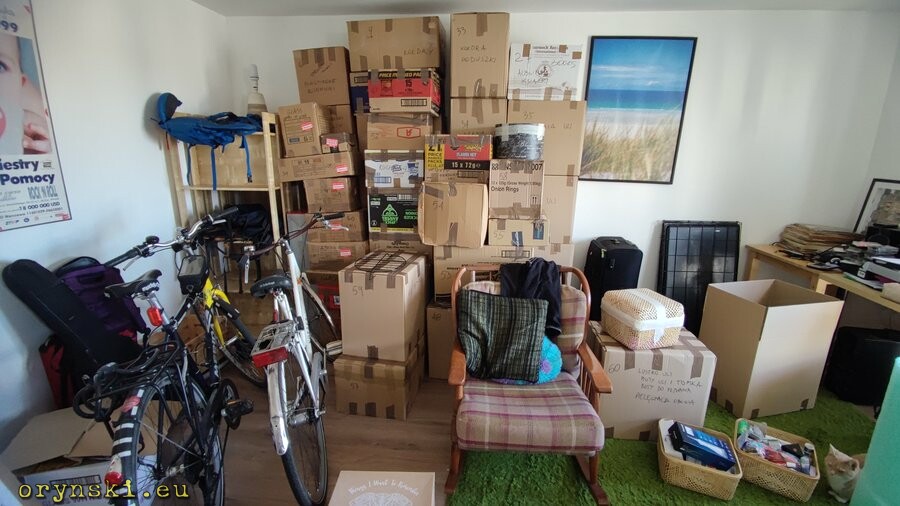 The new flat is in a recently renovated 1960's building. The building is surrounded by greenery. It used to be more park-like, but a new building was squeezed in the gap (you can see modern balconies on one of the pictures. The Last picture shows our bicycle entrance)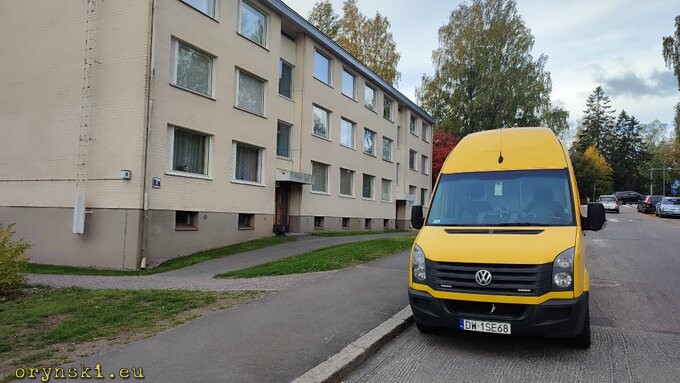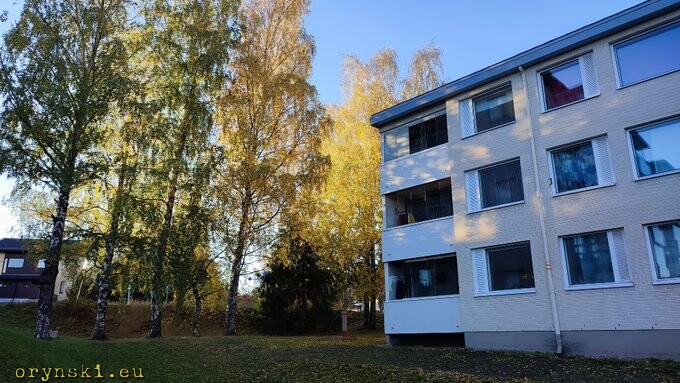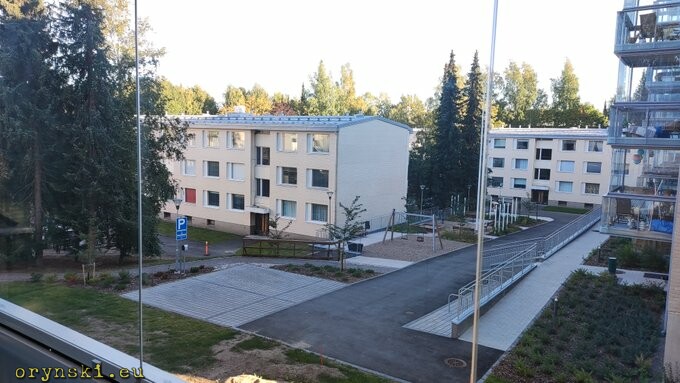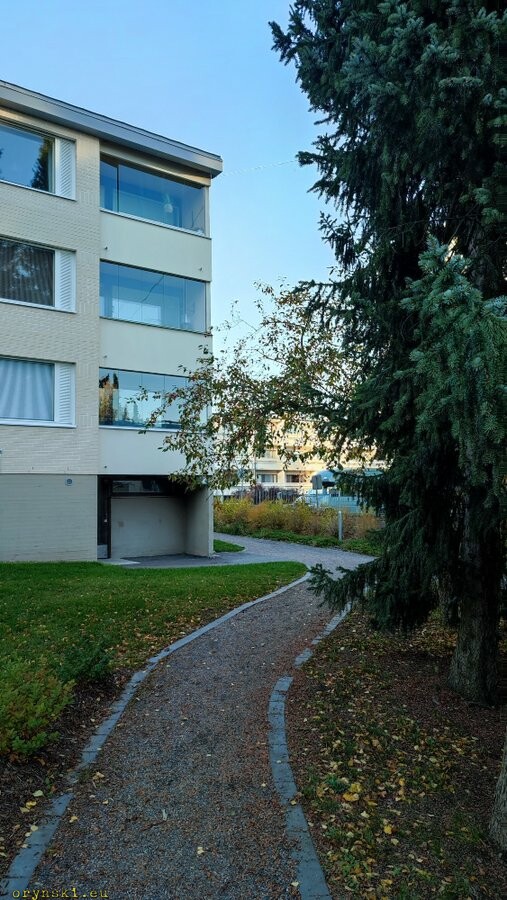 Meanwhile, our old building was basically surrounded by the parking lots, and the only actual greenery around was a patch under our window, with a couple of trees and some shrubs or whatever they are called. No other ground-floor flat had any trees, as there were ramps for wheelchairs going across the front of the building.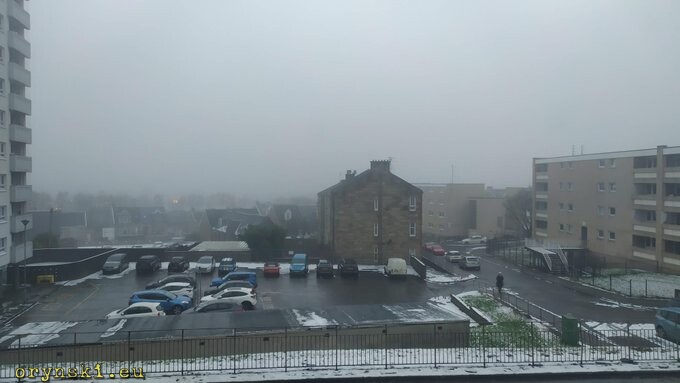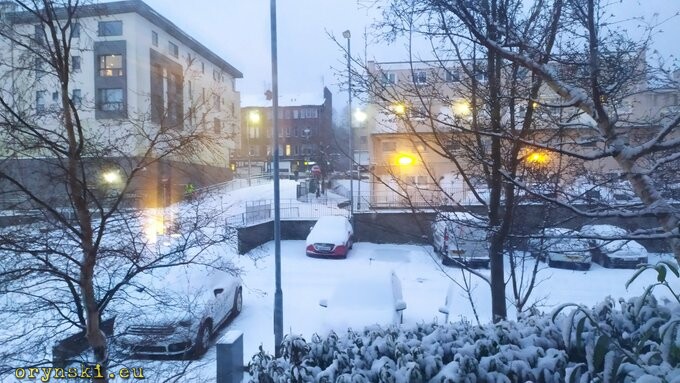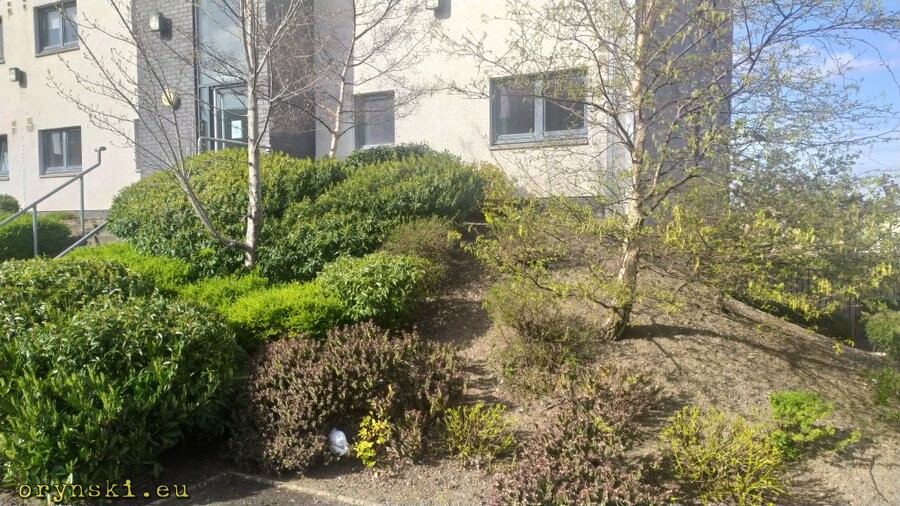 The flat has not been renovated recently, and you can see some wear and tear here and there, like the panels on the floor for example, but the landlord is completely not worried if we scratch the floor or anything. And this is how our Scottish doors looked when we moved in: literally, every single door in the flat had either water or impact damage in them. They only changed them after two years, when our flat was flooded and they had to change some of the doors anyway.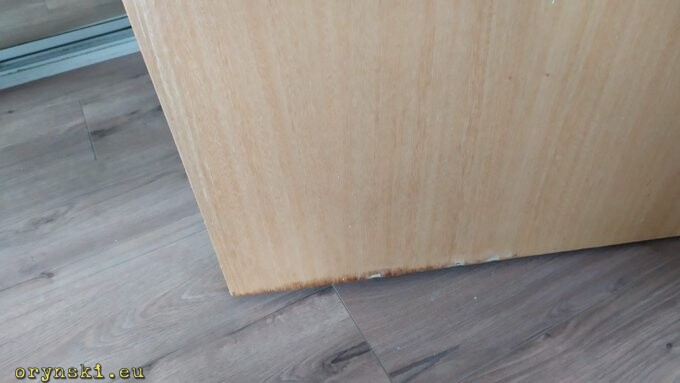 What was in our Scottish flat was of the poorest quality and done the cheapest way possible. See our kitchen, for example, there was not a single drawer in there (drawers are expensive, apparently). Also, this is Lowther Homes' standard of "professionally cleaned flat, ready for tenants to move in"…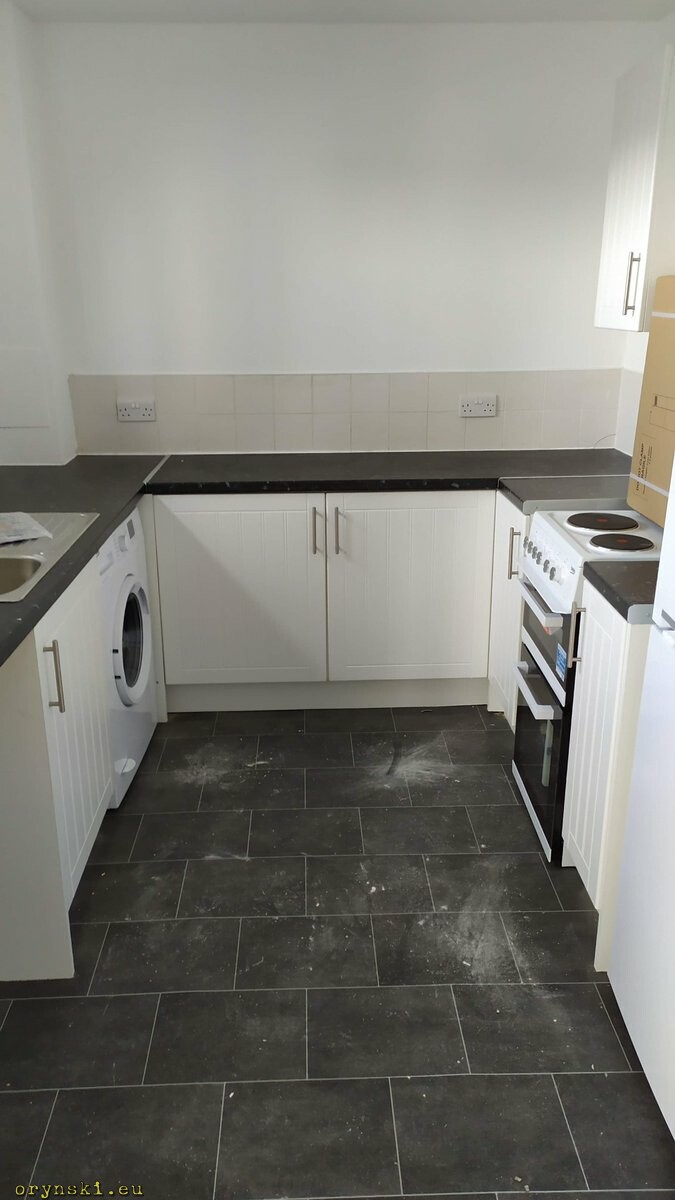 Our kitchen in Helsinki might have old appliances, but they are of the top quality – build in large dishwasher (there was none in Scotland), build in microwave (same), induction cooker, two (!) full size fridge-freezers…It is also much bigger, so we eat our breakfasts there: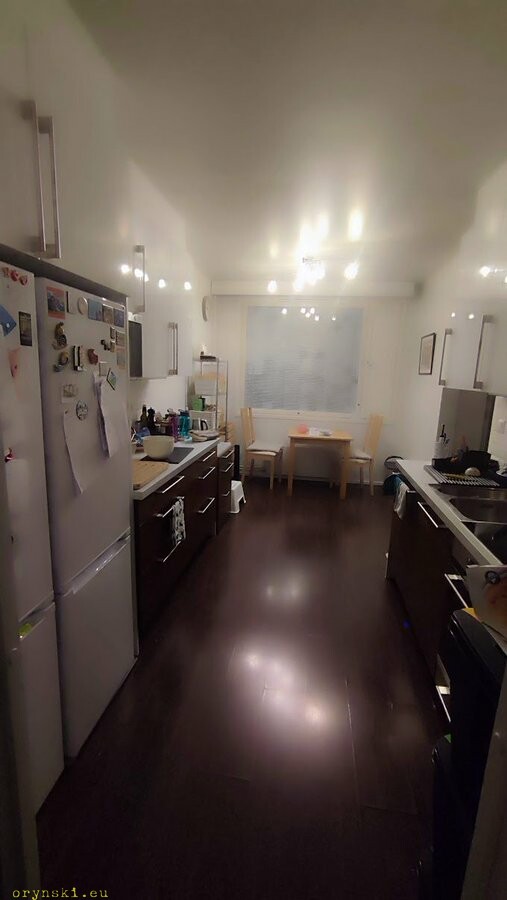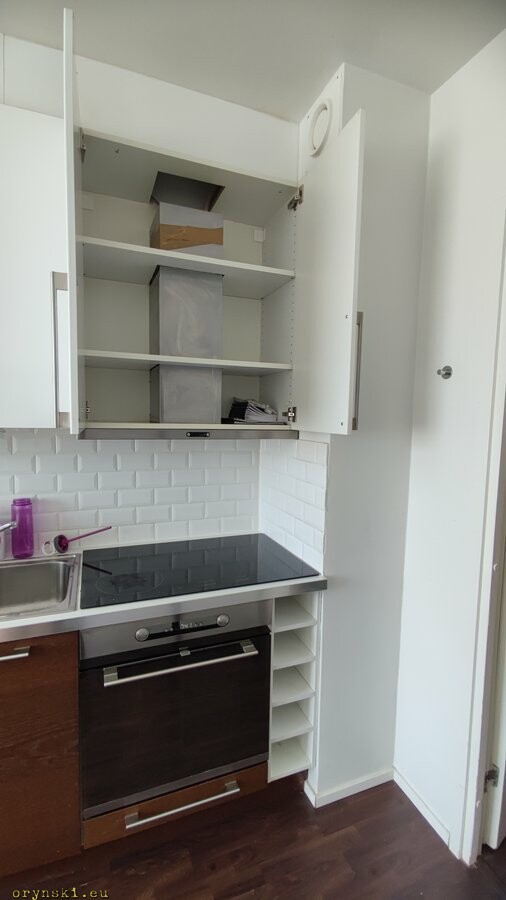 There are several build-in wardrobes: two in the hall and one in each of the bedrooms. They have all kins of storage solutions in them – drawers, hoover holders, small shelves, big shelves, cat's obstacle courses: name and you get it. One even has electricity sockets inside for some reason.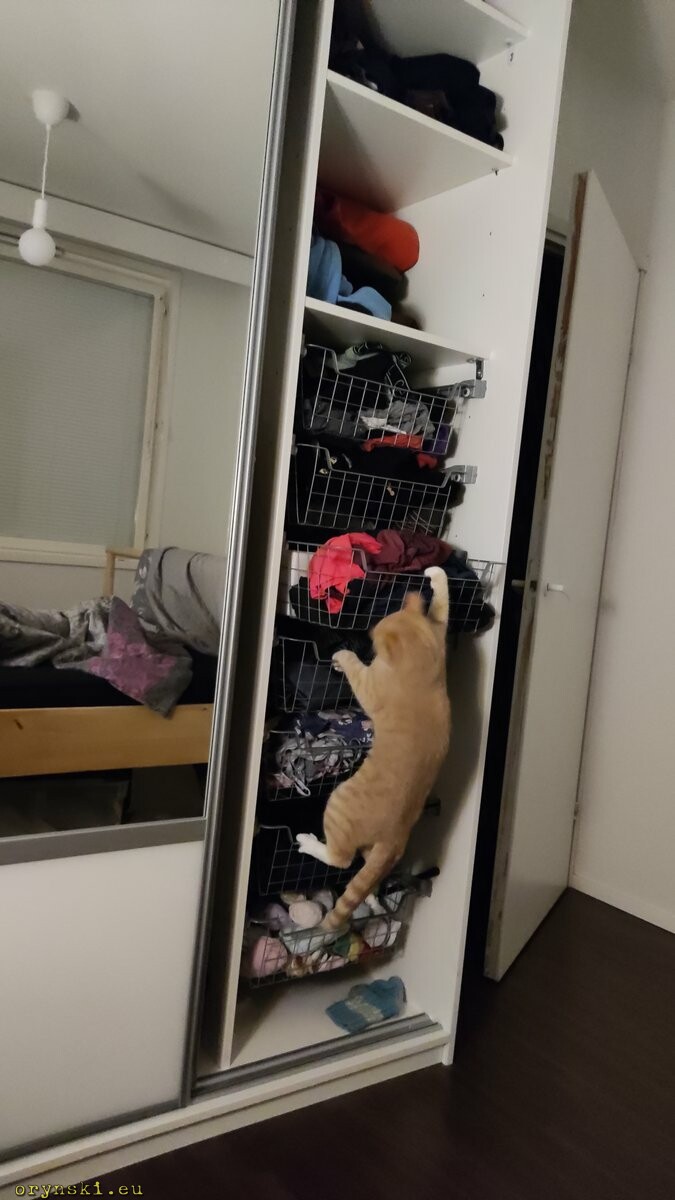 As we are talking about bedrooms, compared to typical British bedrooms they are HUUUGE. Just look at this picture of our spare bedroom (which has since became my office with a huge computer corner desk on the right where I stand. Notice the mattress in the corner?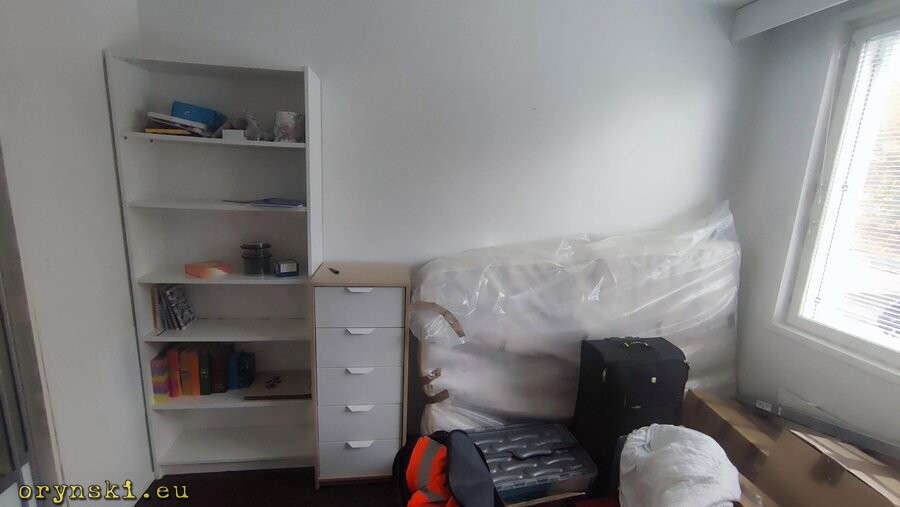 This is the same mattress that you can see in our old spare bedroom in Cambuslang. It's a British double.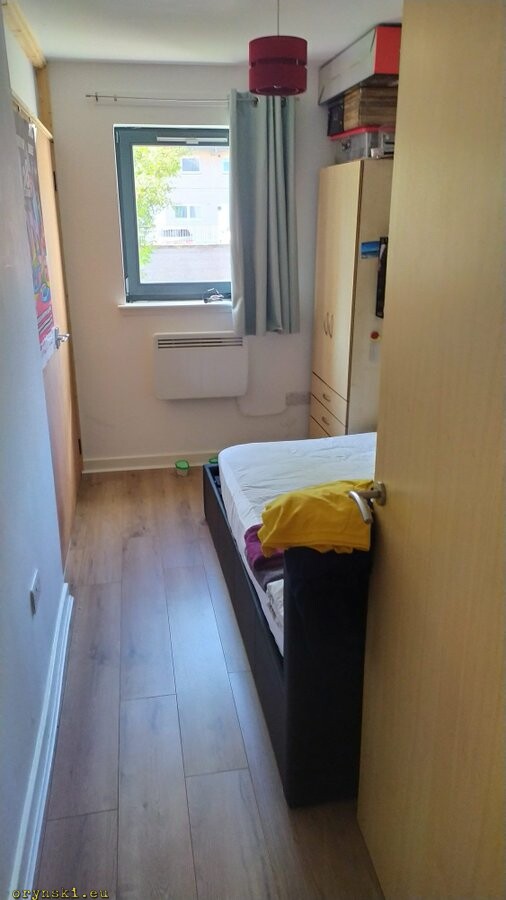 We got rid of the bed later, as nobody was visiting us due to Covid and we turned this room into bicycle storage (below). Also, note the doors on the left on the picture above.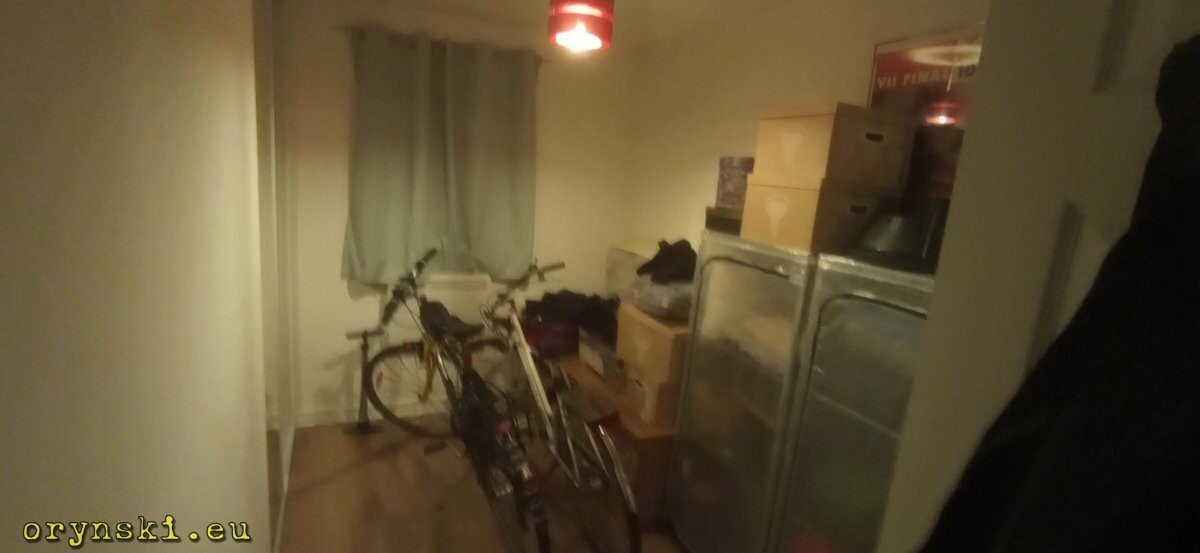 When we checked the flat, there were sliding mirror doors there, as it's a built-in wardrobe. One of the panels was broken. They promised to replace it. And this is what they did: they replaced it with the cheapest possible outward-opening doors, rendering the room unusable, as with the bed in, you weren't able to open the doors. We were told it's only temporary, but we have been fighting for two years to have those replaced with sliding ones. That's Lowther Homes for you, although other British landlords of the same standards surely are available 🙂 
What else I can say? Well, our Helsinki flat is triple glazed, with the venetian blinds build into the window. Only the balcony is single glazed – which de facto makes our living room quadruple-glazed. The balcony is also the only place we have a carpet: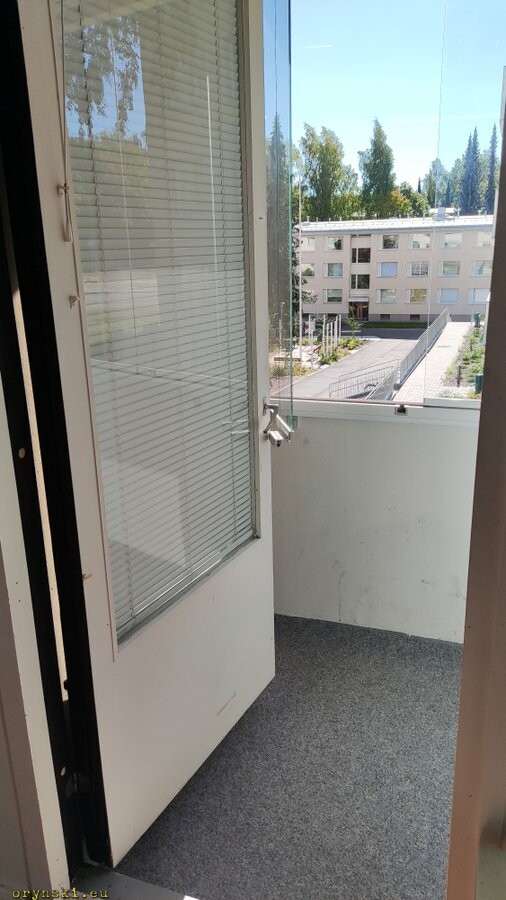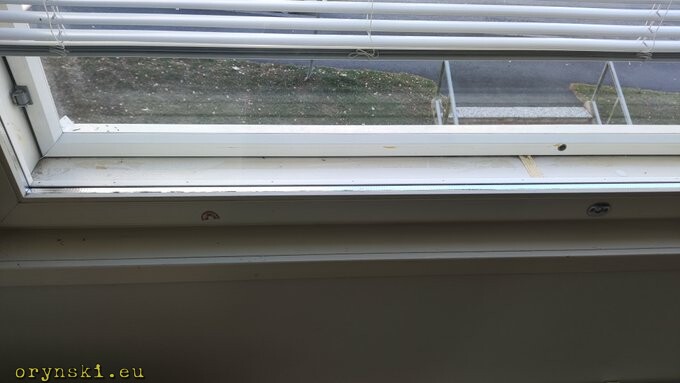 There is also a rack to dry your laundry there, as well as electric socket, so you can sit there in the summer working on your laptop or something. In winter, we have district heating here, so our bills will be significantly lower. But apart from that we have a floor heating in the bathroom because comfort. Speaking of bathroom, we also have a bidet head and a towel drying rack etc (pending renovation, as mentioned before, but we are promised it will be brought to the same (or better) standard):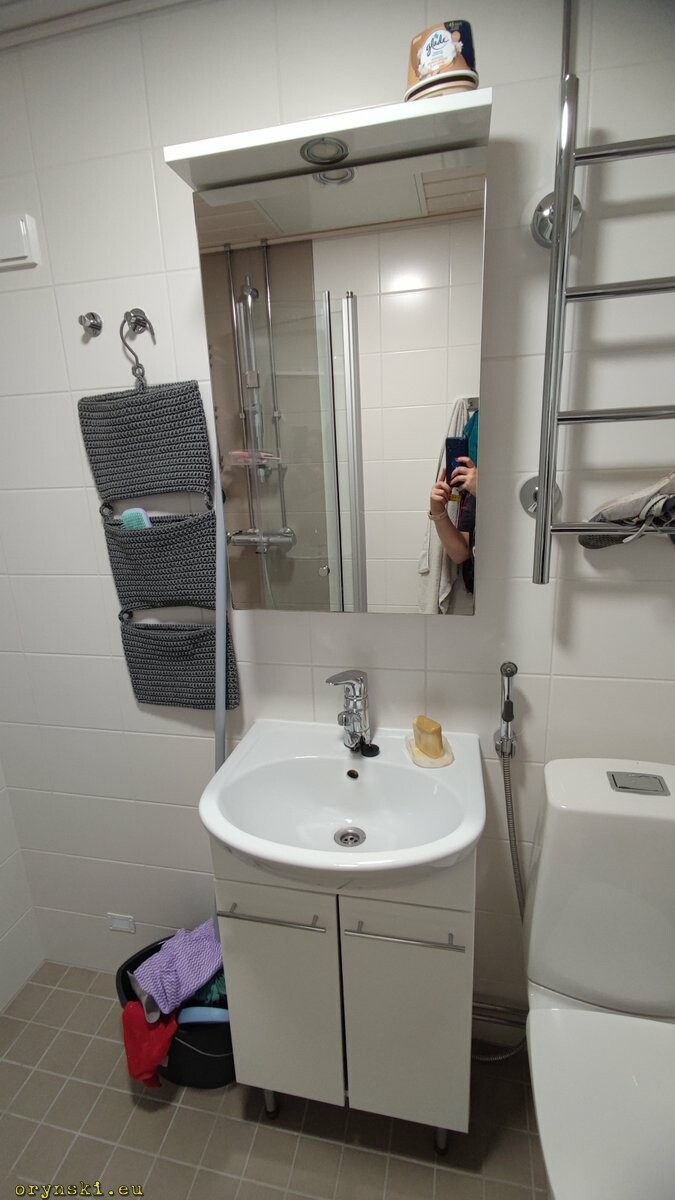 And now, let's talk bins. In Cambuslang our bins were a disaster. They were always overflowing and stinking. I had a thread about them on Twitter.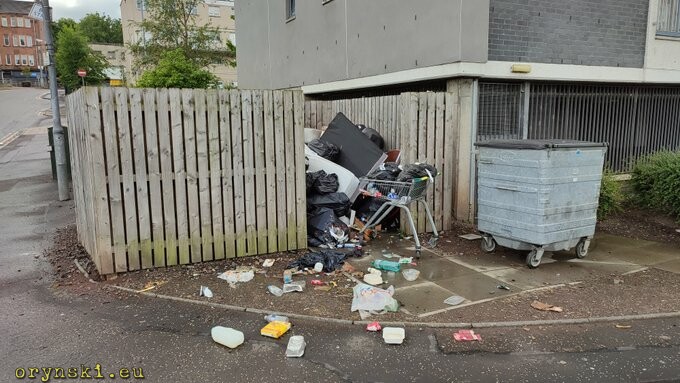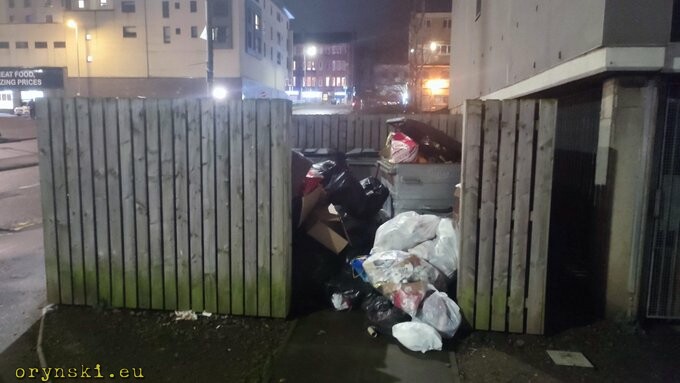 In Helsinki we have those dutch-style underground bins NotJustBikes did a youtube movie some time ago. While in Cambuslang recycling and sorting were non-existent, here we have separate ones for paper, cardboard, glass, metal, plastic, organic, and the rest. And then drink cans and bottles (both plastic and glass) all have a deposit on them, so you take them to the shop with you, put them into the machine, and get a voucher to spend on your shopping.
People here are used to completely different standards. A couple of days back I walked to the laundry and I saw a group of my neighbours gathered on the street. They were all up in arms about something, making a lot of angry perkele noises. They asked me something in Finnish, but I told them "en puhu suomea" so they switched to English and asked me what I think about that. I could not make out what "that" is. Turns out that a bin lorry spread some rubbish on the street when emptying the bins. They were outraged. I haven't noticed, as the street was as clean, as the average street in better neighbourhoods in Glasgow… Apparently I lived there for too long and got more used to it than my annoyance with the omnipresent litter let me believe.
Last but not least – transport. Despite not having to watch the parking from all my windows, everyone has their parking place allocated. Our is located about 100 metres from our building. We have a socket to plug our electric heater in. I still need to work it out.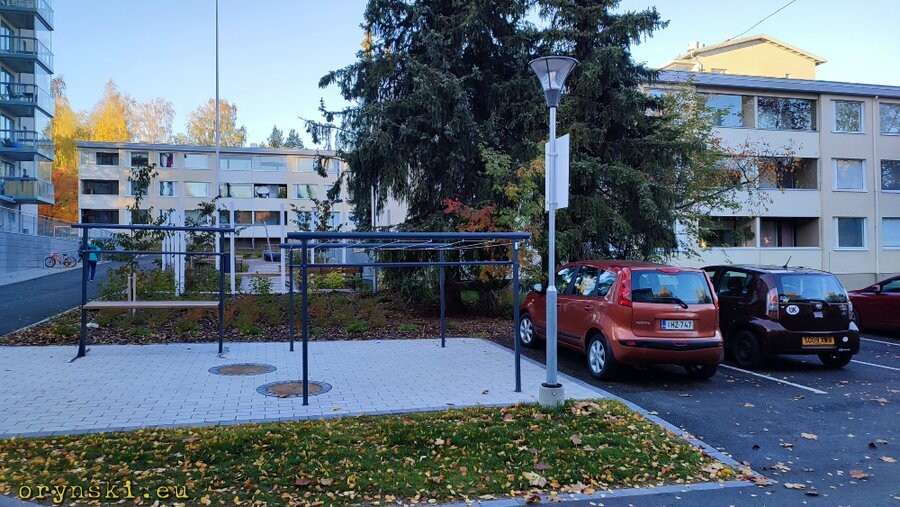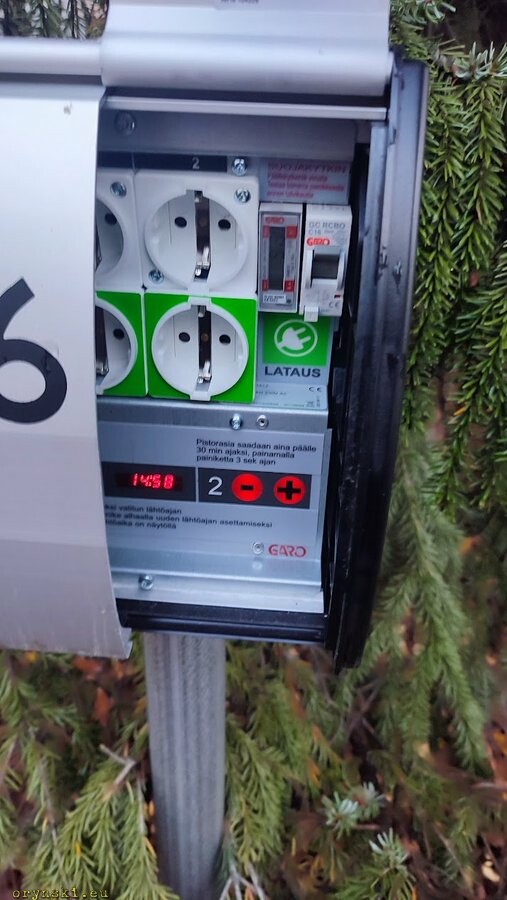 I mean, I upgraded my car to a Finnish standard when I was in Poland, so it has proper headlights and meets all requirements of right-hand traffic (except for the steering wheel being on the wrong side, but this will be my city runner now) but it's still registered in the UK as the tax office tries to work out how much I have to pay for importing it (apparently, it's an exotic!) but I don't know how this clock to pre-set your heater work. Apart from that, we have a bus stop at our doorstep. One local bus, one "slow" bus, and one "express" bus, two latter going to the city centre and all three going to the train station – you can also walk to the train station in ten minutes. Buses are coming every few minutes, are clean fast, on time and quiet, as most of them are electric, so there is no bus-related noise. There is also a city-sharing bicycle station here.
And I think this is all I can think about living standards so far. Anything, as me a question.
To finish it off, one thought: this is in no way a luxury flat in Finland. On the contrary, this is a starter flat, this is what we could afford after moving to the new country. Would we be able to get a flat with similar standards in Glasgow? Possible. But seeing what people now pay for a mouldy tenement flats in Glasgow Southide, where I used to live for many, many years, I think we would have to pay much, much more for rent than we are paying here.
---
See also our podcast on the topic:
---
Original tweeter thread here. 
Comments
comments