---
Majority of Tourists in Scotland visit Glasgow or Edinburgh and then head north towards Highlands. During the season, hordes of cars with caravan trailer clog busy A82 as they drivers are willing to see the beauty of Loch Ness and Isle of Skye. Meanwhile relatively little known Argyle, located to the west from Glasgow, also has plenty to offer. One of such hidden gems  is Knapdale, at the top of Kintyre peninsula. 
For centuries travellers were seeing Scotland from the perspective completely different to the one we know today. It's the arrival of railways, and then roads and cars, that turned Scotland inwards. Before that the major mean of transport was to use one of hundred ships and boats sailing along Scottish coast. No wonder, that most of trade and industry was happening at the seaside places, of which many are now just a shadow of their former glory.
Waterways were amongst the earliest tentacles of modern civilization that reached the inland Scotland. Amongst them – Crinan Canal, opened in 1801, which connects Loch Fyne with Loch Crinan at Sound of Jura allowed to significantly cut journey time from Clyde to West Coast and Hebrides. This nine mile long shortcut made it possible to avoid long journey around Kintyre peninsula. Despite effort required to cross its 15 locks, it was still more pleasant than sailing around notoriously windy Mull of Kintyre.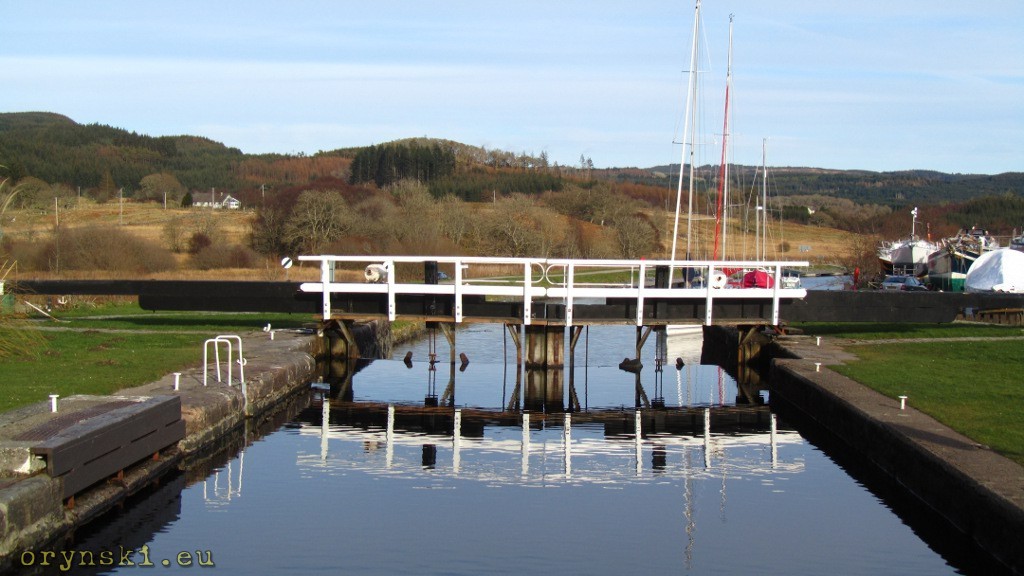 The opening of the canal had a huge impact on the live of local community. New warehouses, workshops and inns were build along it to serve travellers. The canal also became a tourist attraction, even queen Victoria visited it on one occassion. Since she seemed to be amused by it, tourists flooded the area in hundreds and travelled along the canal on the purpose build paddle steamer TSS Linnet, that was making the journey two times a day during summer season. And despite TSS Linnet made her last travel in 1929, it is still possible to go onto steam powered trip on board of last remaining puffer, VIC 32. Today this old girl carries tourists along west coast but in the past it's job was to supply bigger vessels that were too big to get closer to the shore. VIC 32 can often be find in the canal basin next to the sea lock in Crinan. Technology enthusiasts wil find some interesting things on the other end of the canal as well: there, in Ardrishaig, busy road A83 connecting Glasgow and Campbelltown, crossed the canal with a swing bridge. Next to the sea lock there is a small, but still busy port, in which timber from the forrests surrounding Loch Fyne is loaded onto the ships.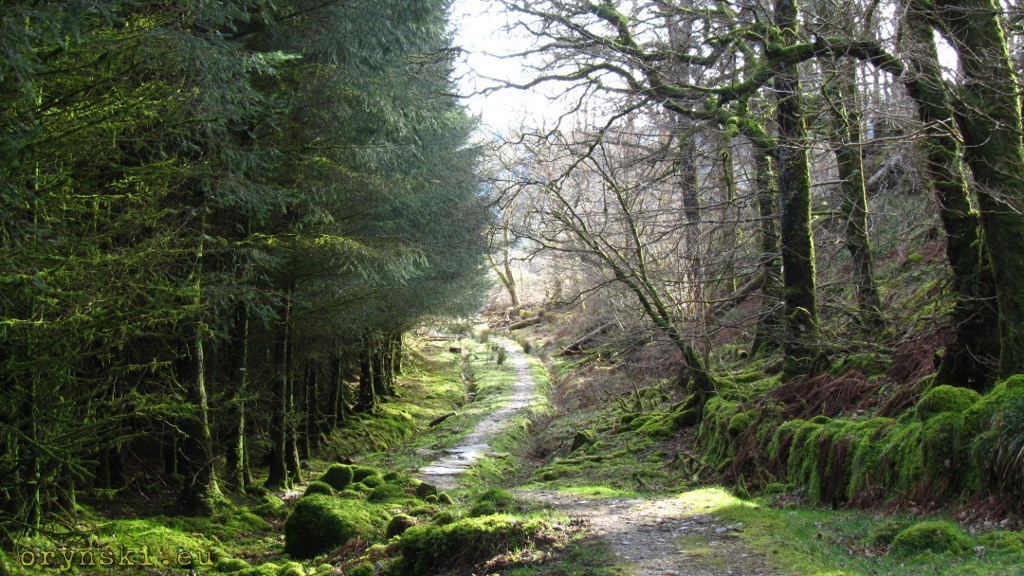 But despite the Crinan Canal brought modern civilization to Knapdale, this area was inhabited by people many millenia ago. Numerous prehistoric monuments, spread across Kilmartin Glen at the East and North from Canal can be a fascinating testimony to how advanced were the people, who lived there in early bronze age. Today many misterious carving in the rock can be seen in several locations, two of them can be found near the village of Bridgend just off A816. Not far from them numerous megaliths can be seen: Temple Wood Stone Circle and nearby cairn are located just south from Kilmartin and huge standing stones can be found near both locations mentioned above.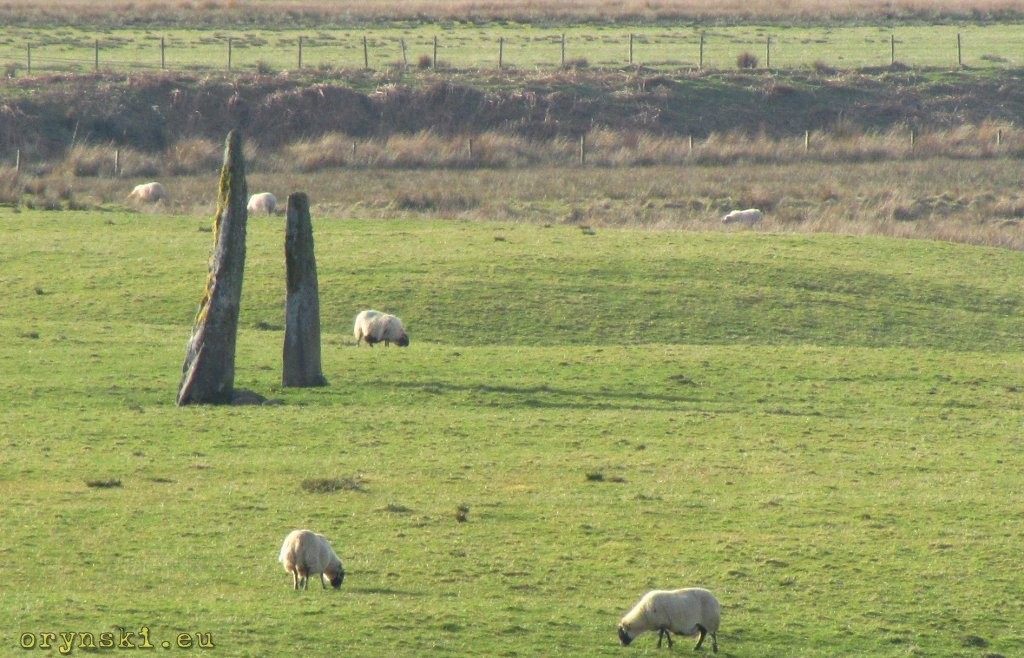 One can wonder, looking at the rock on which someone has carved mysterious "cup and rings" marks over 4000 years ago, what was the meaning of those carvings for our ancestors. Was it just art, or it had some ritual use? But even the archeologists don't know answer to this question. Still, the precision with which those megaliths are located in reference to astronomical features shows that those constructions were important part of well developed civilization.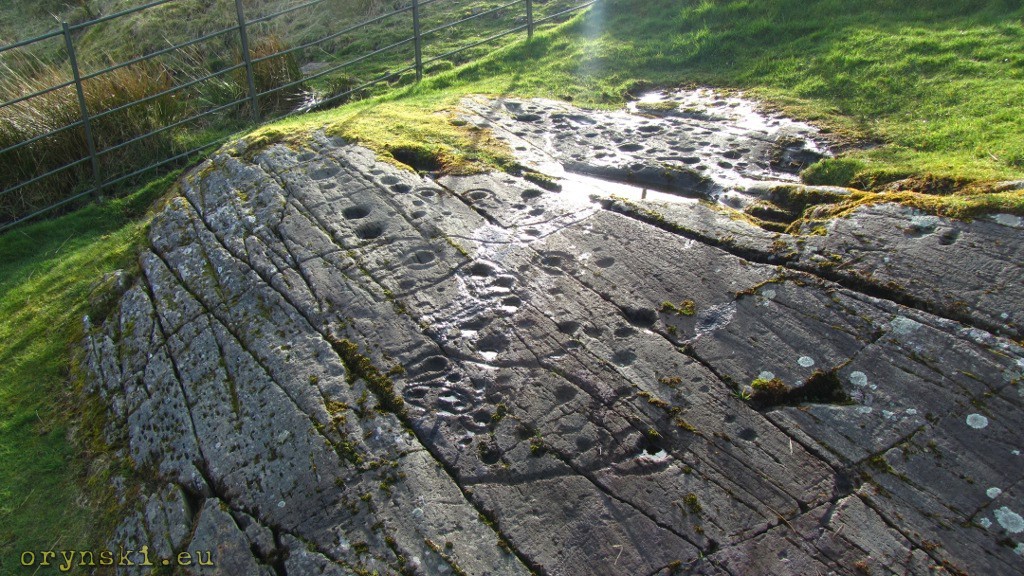 But Knapdale, located south and west from Crinan Canal, also has a lot to offer when it comes to historic monuments. The road B8025, that leads south from the canal and lives it near Bellanoch Marina, shortly splits in two. If we choose left arm, it will take us to village called Achnamara and if we continue that way, to the southern bank of Loch Sween. Here we can see the remains of Sween Castle, that is sadly surrounded by exceptionally ugly caravan park. But this seems to be nothing new here, as it seems that the castle had an equally shitty history: apart from the latrines within the oldest castle walls, there are some more located in two towers at the opposite corners of the castle. It seems that meals cooked in the kitchen located in another tower were leaving much to be desired.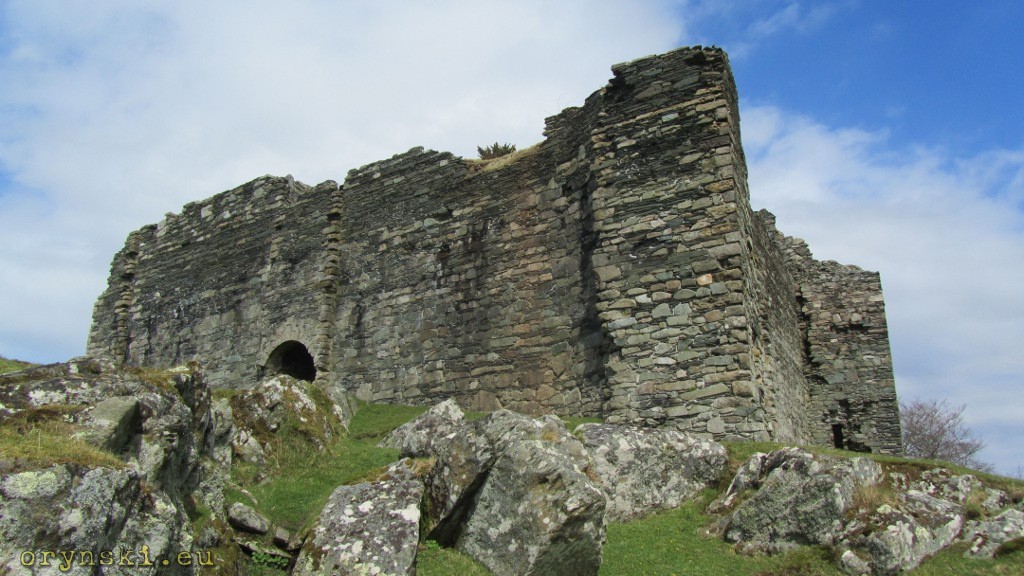 Narrow road will take us further south, and completing this pretty long journey is rewarding with opportunity to visit Kilmore Knap Chapel, located in a small settlement. Inside ancient gravestones and crosses from the wider area of Argyle are gathered. As the peninsula outflaking Loch Sween from the east is longer than the one on the other side, the road about half a mile north from Kilmory Knap Chapel offers a great opportunity to enjoy views towards Jura. Planning a trip in such way, that this area will be visited in the late afternoon, can be awarded with a stunning sunset over the island: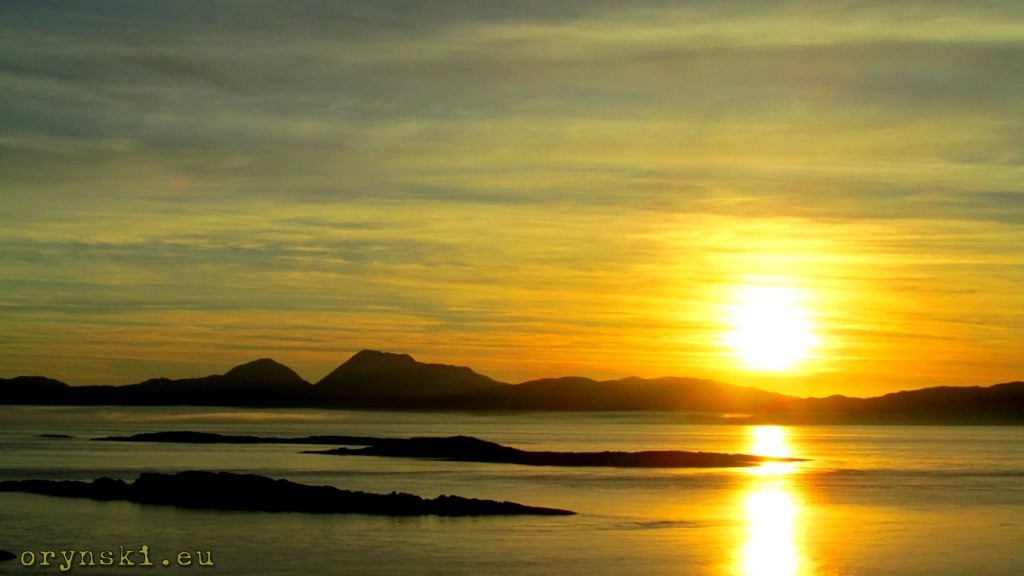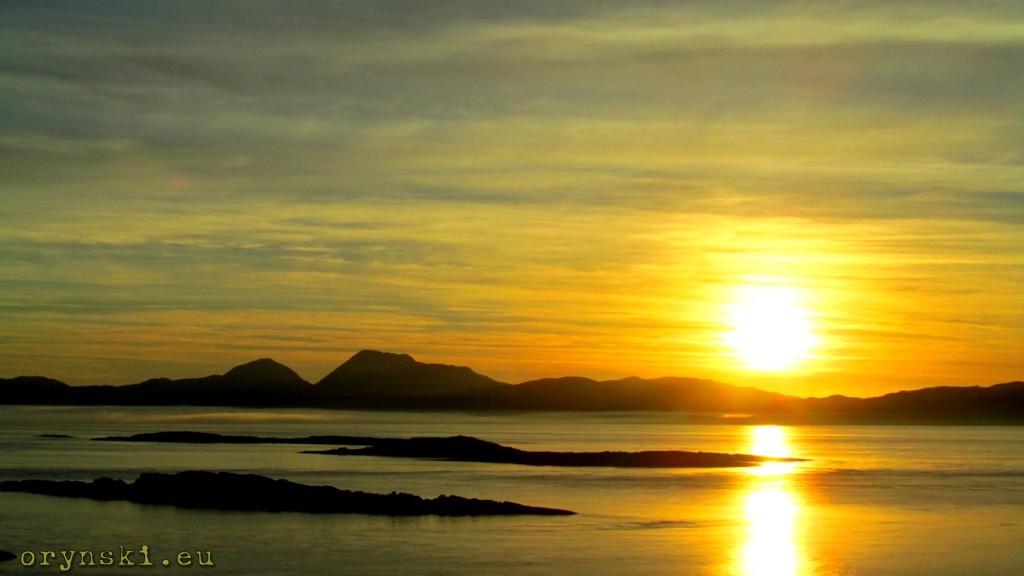 Luckily, in Knapdale you cannot complain about lack of interesting places to visit during the day, therefore you won't get bored while waiting for the Sun to set down. If at the forementioned junction we choose the right arm, the road will lead is to a small village called Tayvallich. Here located are some facilities such as village shop, public toilet, a caravan park with camping field, a local Inn and a cafe at the waterside terrace, so one can watch boats moored at Loch a'Bhealaich. It's hard to imagine that anyone could be fed up with that view, but if you want a change of the scenery, you might want to take a stroll to a nearby Carsaig, that is located less than a mile away, at the opposite side of the peninsula. If you prefer more physical activity, go south and turn left at the junction at the end of Tayvallich. Soon you will arrive to Taynish Nature Reserve. From the car park you can choose one of the walking routes provided.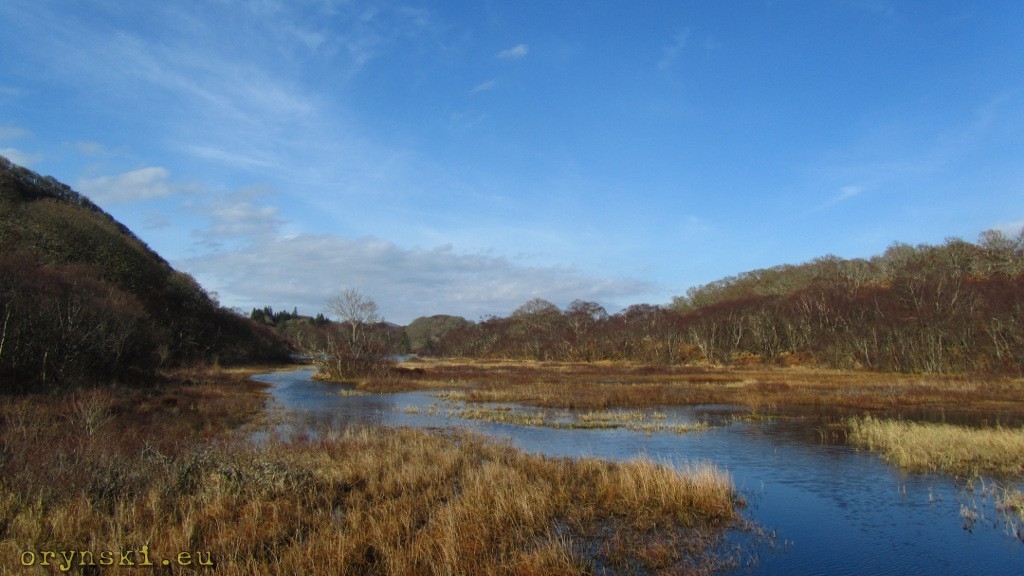 You can follow yellow path towards the shore and see the remains of the watermill. You can relax at the bench located at the wooden platform protruding into beautiful marsh. You can climb the steep mountain towering the park to enjoy a wider view. Or, if you have more time in your hands, you can go right to the end of the peninsula to make some pictures of a friendly highland cattle grazing next to the lonely farm.
The other road south from Tayvallich will take you to beautifully located Keills Chapel, which today serves as a shelter for several gravestones and crosses from XII and XIII century.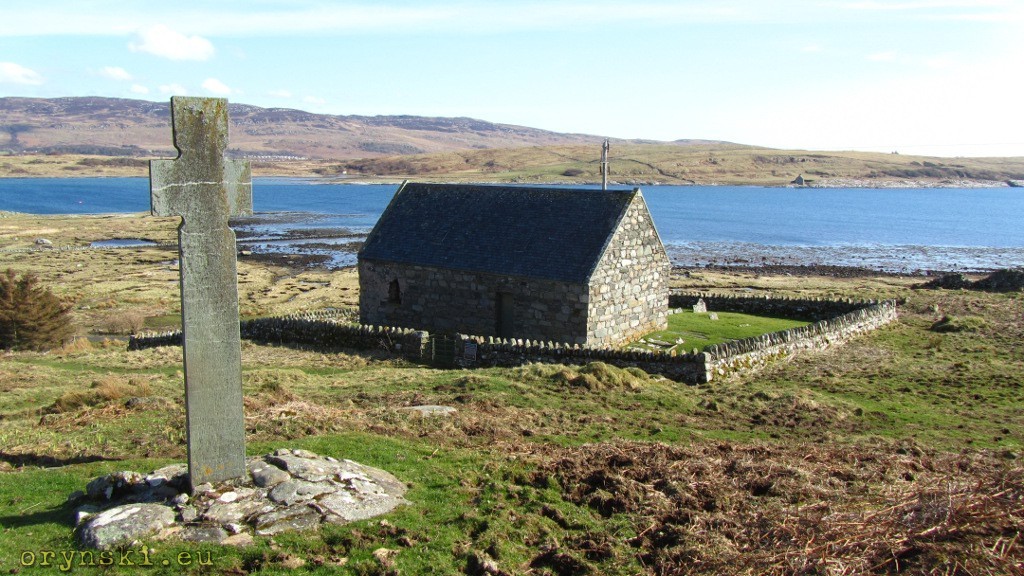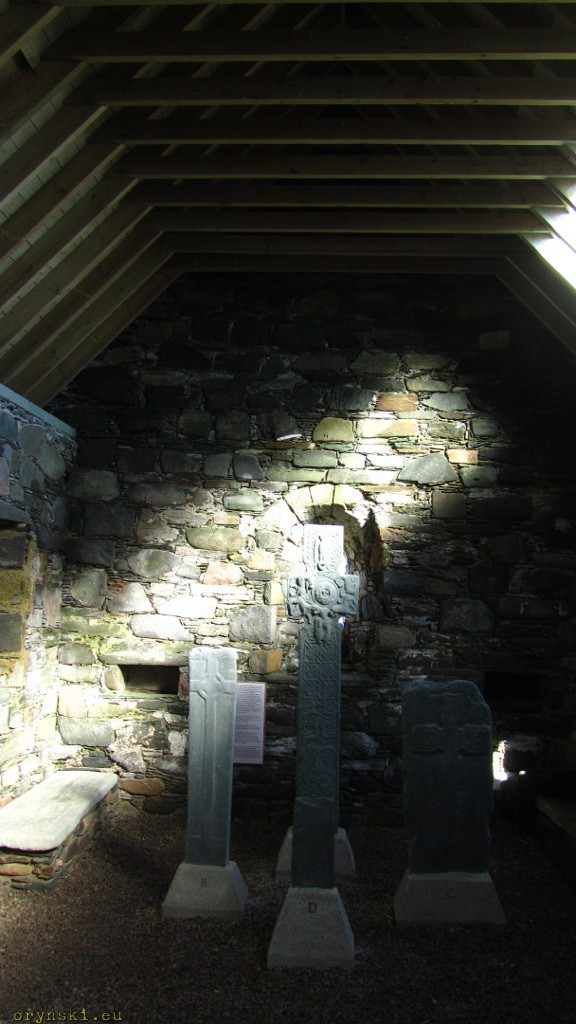 But the chapel is not the end of the road yet. From there, narrow strip of tarmac meanders south-west and after a couple of cattle gates and about a kilometer, reaches a small jetty with a beautiful panorama of Jura. Here, one can really feel like at the end of the world.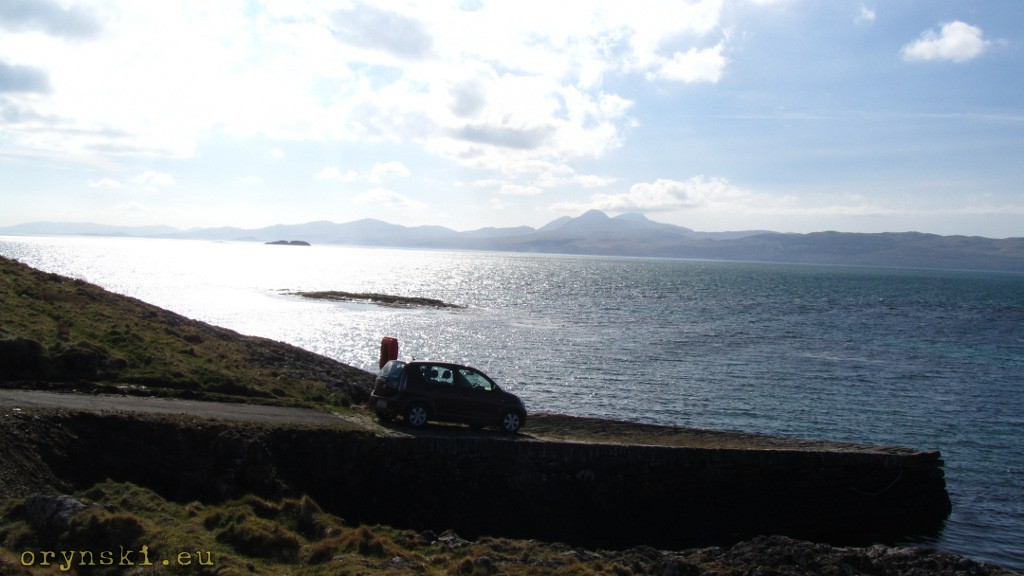 Apart from beautiful landscapes and historic monuments, one of the biggest advantages of Knapdale is the fact, that it is rarely mentioned in popular guidebooks. Noisy tourists looking for a vivid nightlife or for some tourist trap that can at least for a moment keep their bored kids busy have nothing to do here. Thanks to this fact it's easy to get close to nature. While in more popular locations tourists pay loads of money for a boat trips to places where seals are likely to be seen, in Knapdale it is not unheard of that you will yourself became an attraction for this cute animals enjoying the sunbath at the rock just next to the bank of the loch: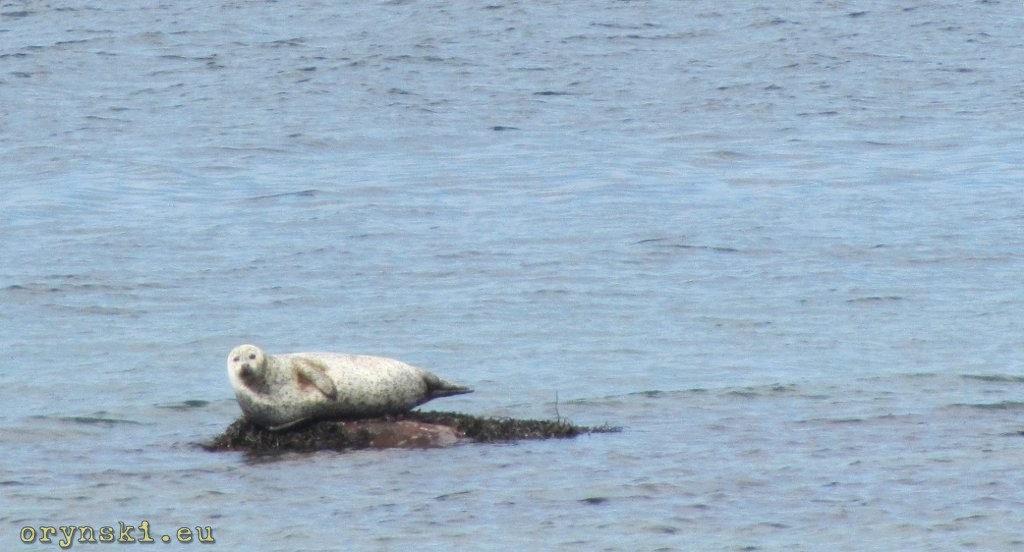 You won't hear shouting kids or noisy cars travelling on the busy road nearby. If you decide to have a picnic at one of the tables that can be found at the forest clearings, the only sound that will draw your attention might be the call of the bird of prey circling above your head: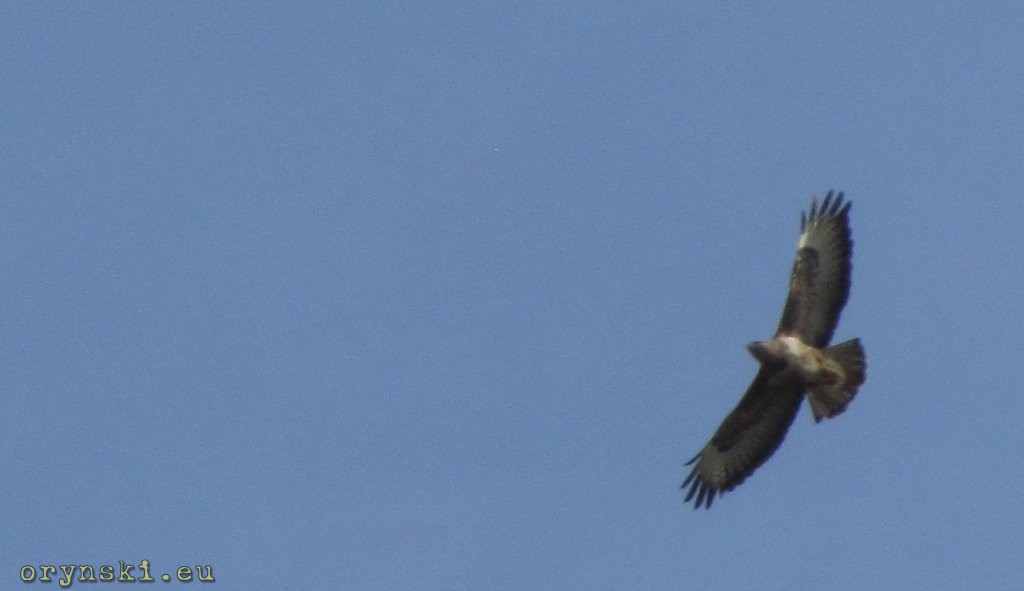 Mostly well kept roads might be narrow, but the vehicular traffic is sparse, so since distances between locations are relatively small, exploring Knapdale on a bicycle might be a good option: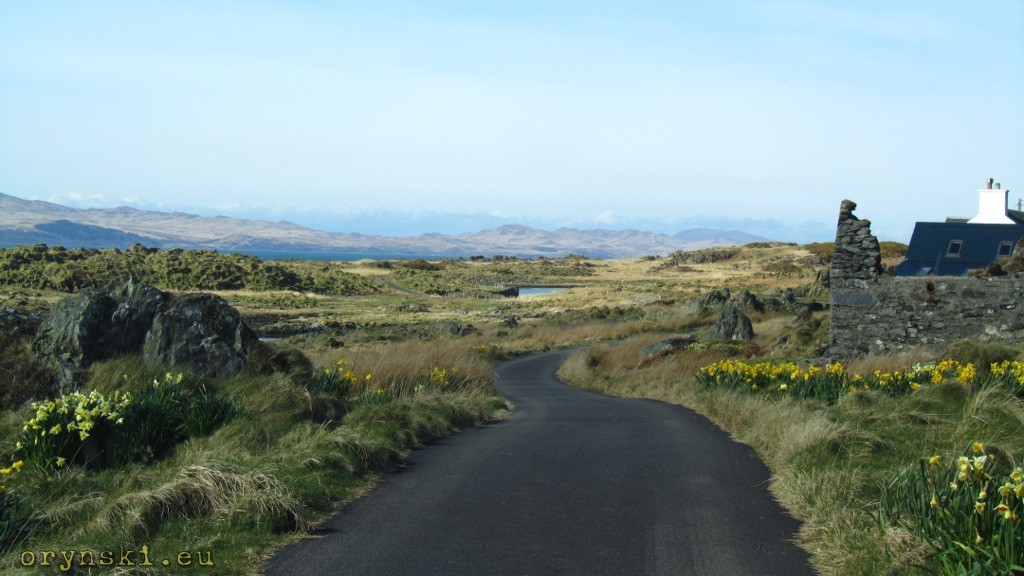 Knapdale is only two hours drive from Glasgow, so it can be destination for a day trip, but it is well worth staying overnight. Accommodation should not be a problem, some hotels and numerous B&B's are available. Those travelling with a tent are welcome at the Tayvallich caravan park, but there is plenty of nice spots for wild camping as well. And thanks for the low population in the area and a distance to the nearest big town, the light pollution is really low, so, weather permitting, you can spend your night in a million star hotel…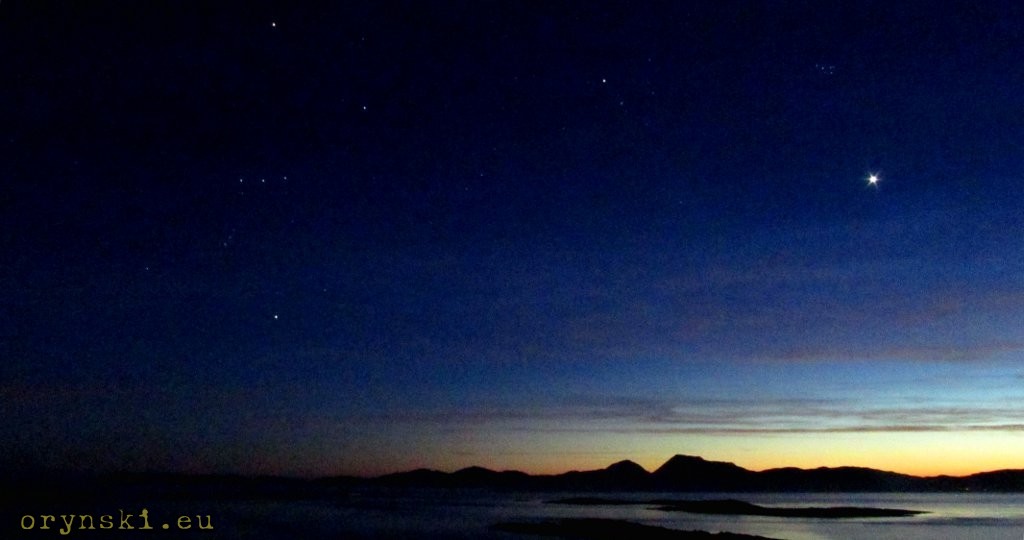 Although Knapdale is close enough to Glasgow to be visited on one day trip, it has so much to offer that it's worth to stay at least for the weekend. 
Comments
comments