If not for a revolt of the Polish drivers in Dover, their ordeal could last even longer. "We marched onto the opposite lane of the motorway and blocked it. After negotiations with the police, we came off it, but we told them unless they start testing soon, we're going to block it again. Only after that tests started – within an hour" – says Tomasz Bis, a truck driver from Stalowa Wola, who spent three days on the M20 motorway.
Greatest traffic jam in England's history

Problems in Dover were building up since at least mid-December. Britons, afraid of Brexit, were stockpiling everything possible, so a week before Christmas there was a long queue of trucks heading back to the continent awaiting crossing. When the discovery of a new, dangerous strain of COVID-19 caused the closure of Port of Dover and the Eurotunnel, which serve, on average, 7 or more trucks per minute, in few hours the situation became dramatic.
While prime minister Johnson was talking live on TV about 174 trucks stranded on the motorway, only on M20 there was already almost 1000. Many drivers got stranded also on the side roads, where local councils got busy slamming parking tickets at them. Soon the police began directing trucks, that were still flowing into Kent, to the make-shift parking on a motorway, all truck parks in the area, and to a landing strip of a derelict airport at Manston. At Manston, drivers were given ineptly translated leaflets, which told them, amongst other things, that they are not allowed to transfer tanks (as if: armored, tracked military vehicles).
Drivers like prisoners
Alas, the idiocies spit out by an online translator were the only reason for amusement, as the situation was dire. "It was bad, with everything" – says Robert (not his real name), an owner of a transport company from western Poland, who had more than a dozen drivers trapped at the airport – "A few toilets that were there clogged almost instantly, and so they were put out of order. Drivers were not allowed access to humanitarian help or to go to the shops. The reason given was an epidemiological risk, yet the security officers, who were forcibly removing them from the fence, were not wearing their masks. Drivers were also not allowed to use their cookers. All they could do was to queue in the rain for three hours in order to receive a burger with chips and a 0.5l bottle of water from the only snack van there. They were ready to riot, only after the visit of the Polish consul they agreed to get back to their cabs, as he promised them that testing will begin next morning".
The situation on the M20 motorway was no better. Paweł Wolski got stuck there on his way back from Wales: "For the first 48 hours, nothing was going on. On the second day, they delivered toilets, but they weren't easily accessible, they placed them even 2 km between. At least they were relatively clean. There was no information whatsoever. Police cars were driving up and down the convoy, we felt as if we were arrested. The drivers were rebelling, but all we could do is to welcome them with our airhorns".
A great wave of human hearts.
The message of a dramatic situation of the drivers sparkled a huge response. The first to come with help – all the way from distant Coventry – was a Sikh charity that delivered water and small snacks. Just hours later Siksh from Khalsa Aid arrived with thousands of hot meals. "You don't have to be a Christian to believe in the season of goodwill" its chief Ravi Singh told Sky TV. English people also came with many initiatives, for example, thanks to a crowdfunding effort organized by Catherine Allen, local fish and chips bars in Dover were able to provide hundreds of hot meals to drivers stranded there.
The Polish diaspora in the UK showed enormous solidarity. They coordinated their help on Facebook. Many of them offered places at their Christmas Eve table to stranded drivers. Amongst those, who provided material help was Jarosław Szuster, a business owner from London. "I have access to a van, so without thinking twice I turned up to transport the aid" – he tells me – "A convoy of more than a dozen vehicles such as mine went to the airport. I was surprised with not only the scale of the help but also with its quality. People donated truly valuable products, not only food but also hygienic, clothing, underwear… You could see that people were putting a lot of heart into it".

The gifts had to be passed to drivers through a hole in the fence. Why? "The multitude of entries at the Polish embassy's social media pages was in no way related to a scale of help they were provided. The drivers imprisoned at the airport can confirm that" – says Szuster – "We were there for 4 hours during the middle of the day, and we haven't seen anyone from the consular service. The English let us only 50 meters inside the gate and told us to wait there. We were very disappointed with the lack of support from the Polish consuls, who would find it much easier to negotiate access, so we could pass our donation in a civilized manner. Yet we've been waiting for over an hour and nobody came up. The English were ignoring us as well, so we decided to leave the airport and drive to a place, where desperate drivers made a hole in the fence. Through that hole, we handballed 20 vanloads of food, drinks, etc."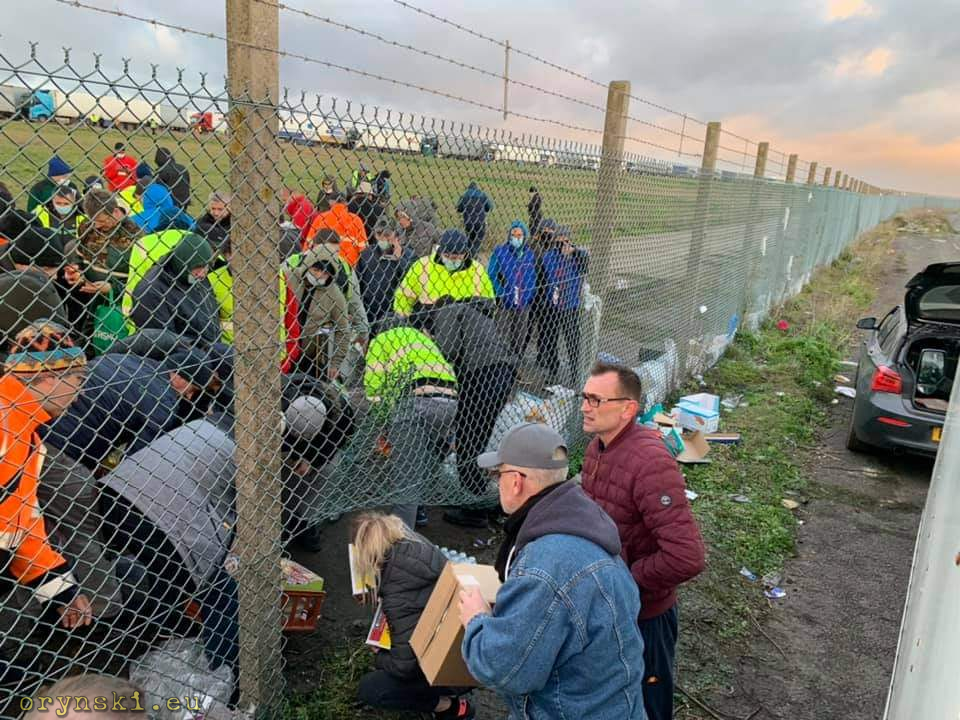 No access to water
It was even harder to reach those drivers, who were stranded at the motorway. "The help was minimal: a 1.5l bottle of water per head, per day" – recalls Paweł Wolski – "On the first day we also got a small box of curry from Sikhs, on the second day – a pizza. Apart from that some crisp etc. I was asking them several times to provide us with water, so we could wash our hands or dishes, to no avail. The testing supposed to begin on Wednesday morning, but nothing was happening. We decided to team up with some van drivers and drive to Canterbury to get our own tests done there, we had to argue our way with the police, but finally, they have let us go. Still, even those, who had negative results of the tests weren't allowed to leave – except for French. Those were pulled out of the queue at Tuesday night already and drove back to their country, I think they haven't even been tested".
Thanks to the private connections of Wolski, who used to live in England, they managed to get in touch with the members of the Polish diaspora. A Polish consul also tried to reach drivers, but he was unable to get onto the motorway. "We had to sneak away from that ghetto and wade through a muddy field to meet him" – says Paweł Wolski – "He helped us out with some sweet buns and rolls, we took a few baskets for our colleagues. He promised to return on the next day with soup and rolls… In my view, the embassy's actions were not so bad, although they took every opportunity for selfies and Facebook, so they could promote how active the consul was. But I can't say a bad word about them, he even called me a few times later to ask if we need more help. Still, I don't understand why diplomatic channels could not be used to allow vans with help access to stranded drivers".
Finally, there is some movement
COVID tests only started to happen on the biggest scale at 9 pm on Wednesday, where a detachment of Ghurka soldiers arrived at the motorway. "They instantly got themselves busy like little bees and the queue started to move" – says Wolski – "but nobody respected rules of social distancing. They were gathering us in the group of 10". He was able to cross back to France at 5 am on Christmas Eve.
Meanwhile, the situation at the airport got messy. Fake certificates of tests started to circulate amongst drivers, so the staff decided not to let anyone out. Mr. Robert, who was desperate to take his drivers home, told them "Just ram through them, whatever happens, even if they break your windows, don't stop". His vehicles managed to break the police lines and nobody chased after them. "Some of my vans got battered, but at least my drivers can spend Christmas at home with families, not caged up in a pen, like pigs" – says Mr. Robert.
Since the blockade has been lifted first drivers already returned to Poland. Still, at the moment of writing, there are still thousands of trucks from all over Europe stranded in Kent. The atmosphere is heavy, there are some rumors (not confirmed by the Polish embassy in London) that one of the drivers imprisoned at the airport took his own life. Luckily, the situation starts to look better.
Many drivers blame France for their ordeal. But we have to remember it's England, that failed to deal with the situation. "Imagine this in 21st century Britain: put foreigners into a concentration camp and REFUSE for them to receive humanitarian aid, so the FOREIGN CITIZENS living in your country had to smuggle it through a hole in the fence. Welcome to Dover in 2020" – this is how the whole situation was commented by a British haulier Ciaran Donovan.
---
This piece was written for a Polish daily Super Nowości. The original article in Polish can be found here. 
Pictures from the top: Paweł Wolski, Jarosław Szuster. 
Comments
comments